"PUBG" Just Loaded The 6.1 Update To The Test Servers
Cool news for PUBG players as the developers have loaded the new 6.1 update to the test servers for you to play with, including a new map. The new map is Karakin, an island that will give old-school Call Of Duty fans a bit of nostalgia. This is about as tan of a warzone as you can get with sand and drybrush for the landscape, grey and sandstone buildings everywhere, blown apart walls and palm trees for miles. We have some details on the map below, and you can read everything about the update in the patch notes here. No word yet as to when it will officially be added to the game.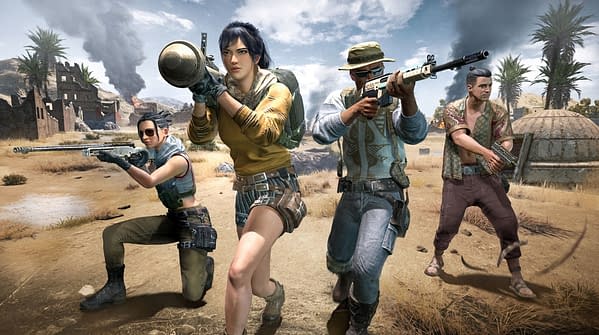 Karakin is a 2×2 km island off the coast of Northern Africa. It's an arid, rocky environment that provides wide-open terrain and challenging engagements. It's small, fast, and dangerous: Expect the tension of Miramar combined with the pace of Sanhok. Karakin is a 64 players map. Players should expect long distance rifle engagements in the mountains, tactical urban conflict, and claustrophobic underground combat. And with the introduction of the Black Zone, Karakin reveals its twist: a map that's layout changes every match.

Our new hazard, the Black Zone only available in Karakin, levels buildings into smoking ruins.

The Black Zone is designed to push players out of the safety of a building.
The hazard is random: towns and compounds can be undamaged, totally flattened, and everything in between.
The mix of buildings and ruins evolves in real time throughout the match: Meaning don't always expect that building you run to for cover to be there late in the match.
Remember, if you hear the siren, and you are inside that purple circle on the minimap- evacuate!
Buildings destroyed by the Black Zone will be marked with X on the minimap.