Bethesda Softworks announced their plans for a couple esports events to take place during this year's QuakeCon. The company will be holding tournaments for both Quake Champions and The Elder Scrolls Legends, with both being broadcast live during the convention on Twitch. Details about both tournaments were released this morning, and as you can see, the cash on these is mighty impressive. Tune in to see who walks out champion at QuakeCon.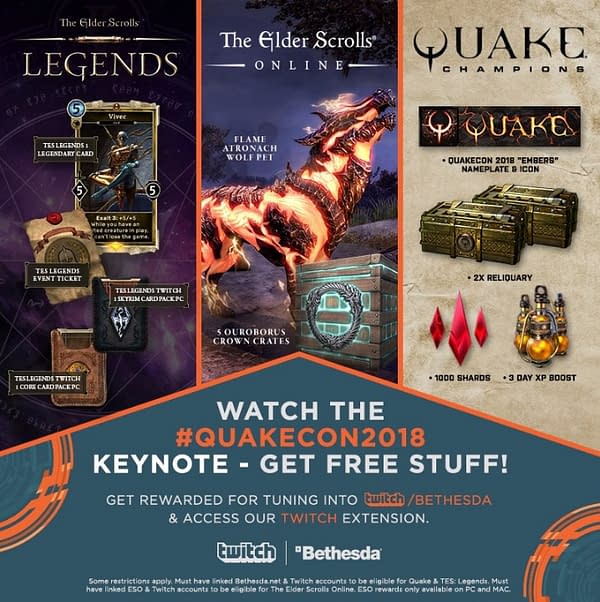 TESL Masters Series – Thur, Aug 9 – Fri, Aug 10

Qualifiers for The Elder Scrolls: Legends Masters Series, featuring both online and offline events, have been running since June 30, and the competition has been whittled down to the top 16 players in the world. These card game gladiators will convene on Thursday, August 9 at QuakeCon to battle it out for their share of the $50,000 prize pool. The path to the final showdown is slated to kick-off Friday, August 10, at 10:15am CT. Fans who are at QuakeCon can catch the competition live in the esports Arena, while everyone else can tune in online athttps://www.twitch.tv/teslegends.

The QuakeCon Open – Fri, Aug 10 – Sun, Aug 12

QuakeCon is known for the amazing Quake competitions, and this year, the Quake Champions QuakeCon Open takes everything to next level. This year's tournament will bring together some of the best esports players in the world, including Team Liquid's Rapha & DaHanG, to team up and fight in 2v2 Deathmatch for their share of a $175,000 prize pool. Competition kicks off on Friday, August 10, with 2v2 finals slated for Saturday evening

However — this year's competition also has a bonus round… with a twist. Players from the top eight 2v2 teams will move on to face off solo – against both teammates and foes – in a 1v1, winner-take-all Duel showdown for a shot at ultimate glory and an additional $25,000. This intense Duel competition kicks off on Sunday, August 12. All of the Quake Champions tournament action can be watched live in the esports Arena at QuakeCon, or by tuning in online at https://www.twitch.tv/quake.
Enjoyed this article? Share it!