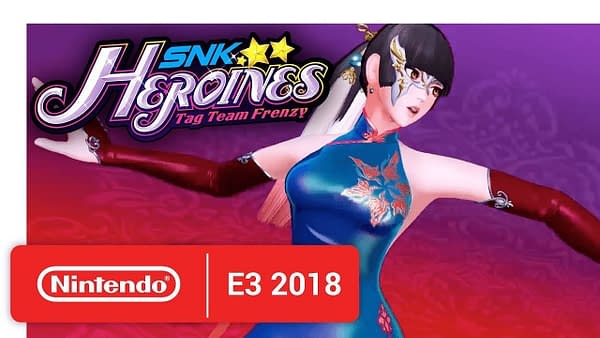 Also omitted from a major presence during the Nintendo E3 Direct was SNK Heroines Tag Team Frenzy, though the game did get itself a Nintendo E3 trailer regardless. The game is being developed by SNK with NIS America handling the publishing and distribution for it worldwide.
The new trailer highlights the knockout duo of Luong and Mian. The purpose was to showcase the game's brand new 2v2 mode.
SNK Heroines Tag Team Frenzy also has streamlined controls and a unique KO Mechanic to help differentiate it from other fighting games. It's being designed so any gamer can pick it up and give it a whirl, regardless of skill level.
SNK Heroines Tag Team Frenzy will hit the Nintendo Switch, PS4, and Arcade systems on September 7, 2018.
You can check out the game's E3 trailer featuring Luong and Mian below.
The mysterious Mian and deadly Luong take the stage! Who will be the belle of the brawl? SNK's toughest female fighters are pitted against one another in a brand-new 2 vs 2 fighting game! With a streamlined control system and unique KO mechanic, this is a fighting game built for fans of all levels of experience. The perfect dream match starts here! Coming to Nintendo Switch on September 7!
Enjoyed this article? Share it!