 Square Enix had a fantastic fiscal year of 2017, which ended on March 31st. The company's end-of-year results are frankly kind of ridiculous. They book net sales of ¥256.8 billion for an increase of 20% billion year over year, an operating income of ¥31.2 billion for an increase of 20.3%, a recurring income of ¥31.1 billion for an increase of 22.9%, and net income attributable to parent company shareholders or "net income" of ¥20 billion for an increase of 0.8%.
Overall the publisher's sales and income rose sharply, with net sales, operating income, recurring income, and net income all reaching all-time highs. So, if you're a fan of Square Enix's many franchises, there is absolutely no question of whether they will continue.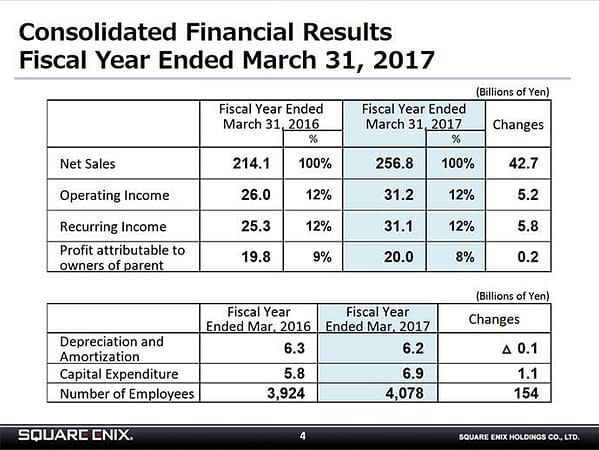 These all-time numbers are mostly attributable to the "digital entertainment" side of the company, which is really the side that they're known for, in any case. According to the English translation of the presentation:
"The greatest contributor to earnings there was Final Fantasy XV, which achieved global sales of 6 million units faster than any previous title in the franchise. Sales of the PlayStation 4 version of Rise of the Tomb Raider which we released in FY2017/3, were also brisk. NieR:Automata, which we released in February, was another earnings contributor, generating sales significantly above our plan."
Basically, between FFXV, Rise of the Tomb Raider, and NieR: Automata, Square Enix managed to rake in an absurd amount of money for the company.
Sure, none of those titles were the top-selling game of 2016 or 2017, but they were wildly successful compared to Square's usual standards. Combined with the income Square Enix makes off of pre-existing games, that's quite a lot of cash. And before you MMO players get upset, the company is definitely committed to retaining their MMO user base by continuing to release content for those games. With both Dragon Quest X and Final Fantasy XIV getting major expansion packs this year (just a few weeks 'til Stormblood, guys), they've got that user base — and our money — well in hand.
And the company naturally expects that trend to continue due to their slate of future releases. While we know some of the games featured here won't show up in our lives for up to three years, it's still an impressive slate of DLCs, new games, and new IPs.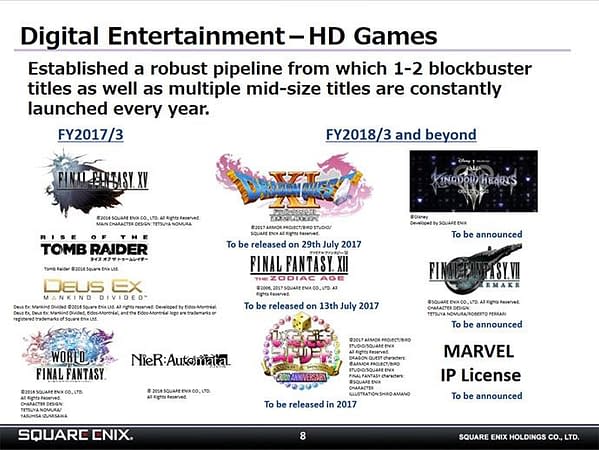 Despite that impressive slate, their forecast for the 2018 fiscal year, ending March 31st, 2018, is rather conservative. The translation reads:
"We forecast within ranges, looking for net sales of ¥240-260 billion, operating income of ¥25-30 billion, recurring income of ¥25-30 billion, and net income of ¥16.5-19.5 billion. We have major title releases slated for the first half of Fiscal Year 2018/3, but given a somewhat clouded outlook for the second half, we have compiled forecasts that are more conservative than our Fiscal Year 2017/3 performance."
Lastly, they concluded with a note about IO Interactive and the Hitman franchise, suggesting that we'll be seeing more Hitman from Square, despite reports indicating that IO is still in development with more Hitman content. Sounds like no one is sure who got the kids in that divorce.
You can check out the translated slides from their investor call presentation here.
Enjoyed this article? Share it!