Star Trek is one of those properties like its big brother Star Wars: there is never any shortage of merchandise to purchase. And to be honest, I thought this was something that already existed, but I guess not. Today it was announced that Loot Crate will be offering a new subscription box that exclusively contains products on the long-running series.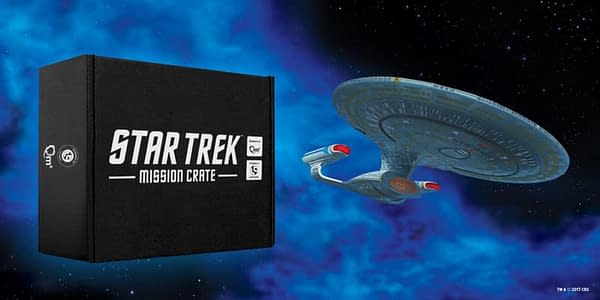 All crate subscribers have the potential to be eligible to win Star Trek experiences and products, and U.S. subscribers will have access to 20% off 3-months of CBS All Access, the CBS Television Network's digital subscription video on-demand and live streaming service that is home to the new Star Trek: Discovery series premiering Sept. 24.

Each Star Trek Mission Crate will feature exclusive, officially licensed, collectible products that directly celebrate the Star Trek universe. Ranging from figures, ships, wearables and prop replicas, the items made by QMx carry a distinct connection to the Star Trek universe. Each item in the crate is manufactured to a standard of quality on par with the attention to detail afforded to the creators of the Star Trek series.

The Mission Crate will ship bi-monthly and is priced at $39.99 (plus shipping and handling) per crate for domestic purchases and $49.99 (includes shipping and handling + VAT) per crate for international purchases. The crate will include products worth more than $65 and will ship in time for the holidays. Fans who would like to beam up a crate can pre-order it online at www.lootcrate.com/StarTrek starting today!
Winning a Star Trek Experience would be kinda cool, and them offering it to international customers is also a plus. Loot Crate is all in on doing these niche boxes now, some would say to the detriment of their regular crates. But catering to one segment of fandom, especially one as big as this one, seems like a no-brainer. Find out more and sign up for the crate here.
Enjoyed this article? Share it!