Surgeon Simulator 2 Gameplay Shows Off A Whole New Body Of Work
Surgeon Simulator is consistently hilarious because no matter how well you do, it's always absurd. Doing an eye transplant in the back of a moving vehicle is ridiculous, but that's the charm of this wacky game. Now, as Bossa Studios has finally shown off gameplay for Surgeon Simulator 2, we can see just how much wackier the new title really is.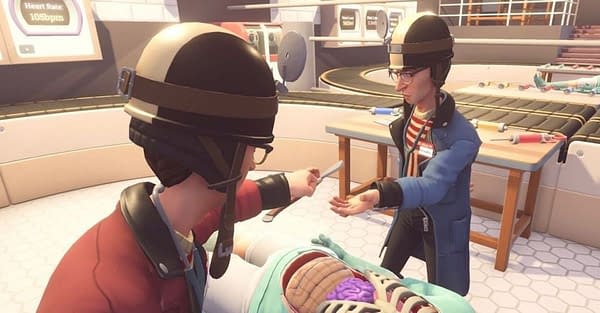 Though Bossa Studio had been teasing Surgeon Simulator 2 for some time, we hadn't seen any gameplay until a new trailer debuted during the PC Gaming Show. Now, we've had a full glimpse at what to expect, and the game has been expanded considerably. Not only does it include 4-player co-op, but you'll get to move about in 3D instead of standing over your patient for the first time. There's even a progression system that lets you unlock new cosmetic options.
But the game's bread and butter is still wacky surgery, and it's based on the same frustrating physics as before. You have one arm that's stuck out stiffly in front of you to rotate around and grab at things with it. It looks pretty hilarious from the trailer, honestly, even more so than the original game.
You'll have to focus on far more than transplanting organs, though. You'll have to solve quite a few mysteries, it looks like, and even rip limps off to replace them with new ones, including your patient Bob's head. If you've ever hoped there would be more to the game than just the odd operations, your wish has seemingly been granted.
We'll be able to get our hands on the game later this year. Better start brushing up on your medical training.