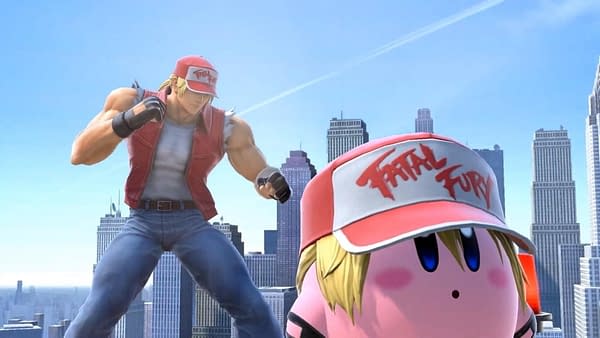 The latest DLC fighter for Super Smash Bros. Ultimate is here: Terry Bogard.
The popular SNK character arrived today in the game with the addition of patch 6.0. Game director Masahiro Sakurai took to an official video breaking down the character's new moves. All was revealed during a 45-minute livestream on Wednesday, which showed off the fighter's various abilities.
Once Terry's damage skyrockets above 100 percent, he can use Super Special Moves. They're capable of doing some serious damage, as long as you're good with a bit of risk hanging in the balance.
Patch 6.0 also introduces a new King of Fighters stage in addition to a selection of fun Mii costumes. There's also Kirby, who gains adorable little gloves and a Fatal Fury hat. If you ask me, it should have been a Fatal Cutie hat instead.
You'll get the patch free if you own Super Smash Bros. Ultimate. Terry and the new stage, however, will run $4.99 for the Challenger Pack 4 purchase. You can also pick up the Fighters Pass with other characters included for $24.99.
What do you think? Are you ready to annihilate the competition with Terry Bogard? Let us know in the comments below!
Enjoyed this article? Share it!