Let's Look At The Thanos 10 Inch Funko Pop And How Awesome It Is
Thanos is my favorite comic book villain. One of my favorite villains period really. Just the ultimate bad guy. With Avengers: Infinity War finally hitting theaters in under two weeks now, the Mad Titan is having his moment in the sun. I have been going nuts trying to keep up with all of the Thanos merch in stores, especially from Funko. One item in particular was number one on my list from them- the 10-inch Thanos Pop. Exclusive to Target stores, they have done a few 10-inch Pops already. Groot, a Porg, a Gladiator Hulk. All pale in comparison, and after weeks of walking into Target and leaving empty-handed, I finally got my hands on one yesterday.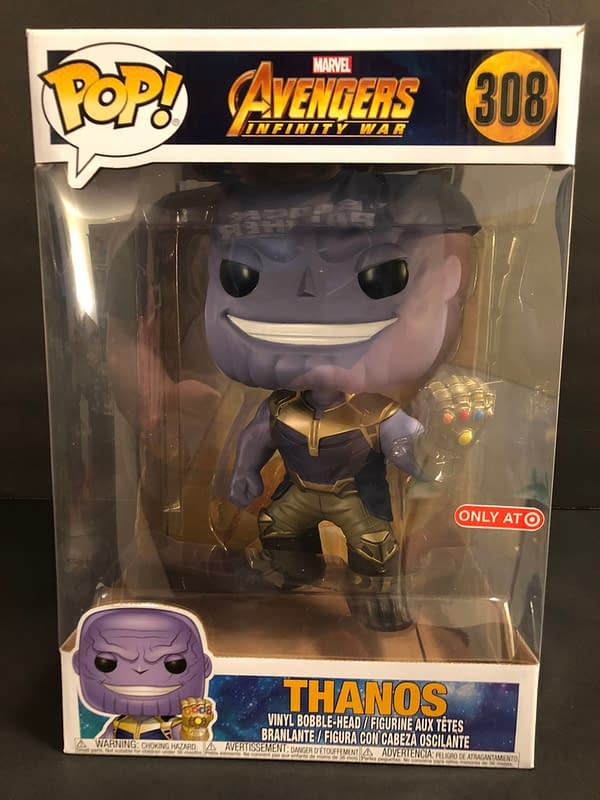 Thanos comes in an awesome oversized Pop box, with a giant picture window showing off the Pop. After the problems with Hulk's hammer breaking in shipment, they took extra precautions protecting the Infinity Gauntlet and wrapped it in plastic inside. Mint in box collectors take note- the bottom of the Pop speech bubble on the top of the border near the top of the box bends up on a lot of these. Keep an eye on yours.
With some slight differences, this is basically the regular release Pop scaled up. the 10-inch Pop has Thanos making a fist with the Gauntlet, while the regular Pop has the fingers flexed out. He has a giant smirk on his face from knowing that he has won, and they did a great job balancing him out. Mine stands absolutely perfectly. The Infinity Stones are all brightly colored, and my figure also has zero paint issues. There was a weird glue spot on the back of his head, but I was able to get it off with ease.
I love every Thanos offered by Funko right now, and this was a more than welcome addition to the group. As you can see, I have them all- the 10-inch Pop, the regular release Pop and the Walmart exclusive, the Dorbz, the Mystery Mini, and even the Pop Keychain. The only missing piece from my Funko Infinity War Thanos family is the Galactic Plushie, and thats only because it hasn't hit around here yet in my neck of the woods.
I have a feeling that there will be something Thanos in the Infinity War Marvel Collectors Corps box as well. You can preorder that right here, right now. Today is the last day! Here is a trailer they released for that:
Destiny arrives. #AvengersInfinityWar pic.twitter.com/LCszwMBTcg

— Funko (@OriginalFunko) April 14, 2018
The 10-inch Thanos is available in Target stores right now, if you can find him.