Its the start of a new month, and so Twitch is giving away six new games to Twitch Prime members for the month of May. The six games you can snag with your membership right now are Avicii Invector, Fractured Minds, Pankapu, Urban Trial Playground, The Little Acre, and Snake Pass. What's more, the company is promoting Mental Health Awareness Month, and they've dropped a bunch of free loot on a couple of familiar titles. We have the full list and details on everything for you below.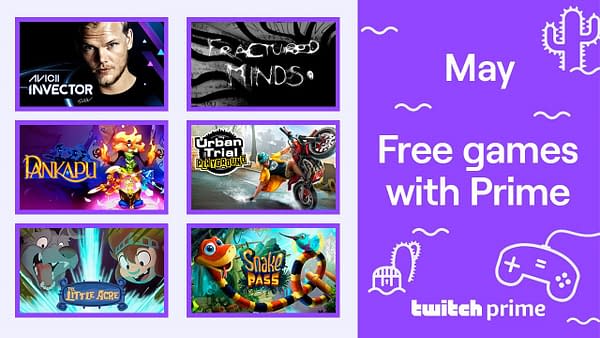 May is Mental Health Awareness month, and Twitch Prime is proud to offer members two special games from Wired Productions as part of this month's Free Games with Prime: Fractured Minds, created by Emily Mitchell, a 17-year-old who found solace through game development as she journeyed through severe anxiety, and Avicii Invector, a pulse-pounding frenetic rhythm-action experience co-created by the late artist. Learn more about these games and the causes they support here. This month's other free games include action-platformer Pankapu, stunt racing game Urban Trial Playground, adventure game The Little Acre and action puzzler Snake Pass. That's not all! Right now, Prime members get an extra free game every Friday. So in addition to this month's six free games, Yono & the Celestial Elephants, a grand adventure featuring carefully designed puzzles, treasure hunts, and a sprinkling of combat, and Old School Musical, a wacky musical adventure that takes you on a tour of all your favorite retro games, are available now on Twitch.

NOW AVAILABLE Words with Friends 2 – Drop 1 of 6
NOW AVAILABLE Fallout 76 – Drop 3 of 3
NOW AVAILABLE RuneScape – Drop 1 of 4
NOW AVAILABLE Destiny 2 – Drop 4 of 6
NOW AVAILABLE League of Legends – Drop 2 of 3
NOW AVAILABLE Legends of Runeterra – Drop 2 of 5
NOW AVAILABLE Ring of Elysium – Drop 4 of 4
NOW AVAILABLE The Seven Deadly Sins: Grand Cross – Drop 1 of 7
MAY 11 League of Legends – Drop 3 of 3
Enjoyed this article? Share it!