LEGO DC Super-Villains Looks More and More Promising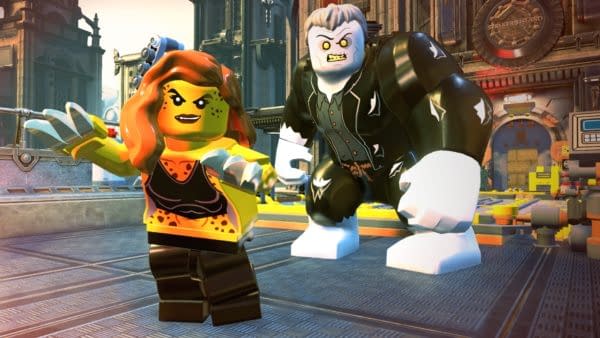 Just before New York Comic Con I got a chance to sit down with TT Games' executive producer Phil Ring to chat about LEGO DC Super-Villains which is releasing in just a couple of days. While the gameplay is pretty familiar for fans of the TT Games' LEGO series, there have been some improvements. Additionally, there are two different difficulty levels to allow you toggle just how much active help you want in the game, so fans of the series can cut down on the amount of hints they see pop up on the screen.
Perhaps the most important take-away I had from my time spent with TT Games was the actual size of the game map. Super-Villains is an open-world game, but unlike other LEGO open-world titles like LEGO Marvel Super Heroes, in LEGO DC Super-Villains, we get several distinct areas to explore. There are four different areas for players to wander around, including the cities of Gotham and Metropolis. And the quests in those areas have been revamped, so they're more meaningful. You'll meet new characters around the map and recruiting them to your roster will have you complete their related quests. Between the new recruitment system and the fact that you'll encounter many DC heroes and villains on the streets of Gotham, Metropolis, and even Smallville, LEGO DC Super-Villains feels like a more complete world than some older TT titles.
And that, if nothing else, is great news.
However, you've also got an incredibly lengthy cast of characters, with over 160 confirmed characters for the base game, with additional characters being added with the Aquaman, Shazam!, Batman: The Animated Series, and Young Justice DLC packs. So chances are, if you have a favorite DC hero or villain, they'll make it into this game eventually. And that is fantastic news for DC fans.
So far, the confirmed characters roster for the game includes:
John Stewart's Green Lantern
Catwoman
Lashina
Clock King
Desaad
The Joker
Harley Quinn
Lex Luthor
Superman
Batman
Hal Jordan's Green Lantern
Condiment King
King Shark
Captain Cold
Count Vertigo
Ultraman
Owlman
Scarecrow
Gorilla Grodd
The Riddler
Darkseid
Livewire
Mercy Graves
Nightwing
Raven
Reverse-Flash
Robin
Silver Banshee
Solomon Grundy
Toyman
B'Dg
Cheetah
Granny Goodness
Commissioner Gordon
Killer Frost
Clayface
The Ventriloquist
As well as a slew of others. Characters in the game will have their most iconic costumes, including those from Rebirth, the New 52, and even the pre-Flashpoint continuity. Film versions of the characters are also fair game for TT Games to use, so we might see a few of those pop into the roster as well.
Along with having access to various versions of each character, TT Games has also been able to work a ton of DC-themed easter eggs into the game with references to the films, tv series', and comics. What exactly those will be, Ring couldn't tell me, but he assured that DC super fans would be pleased.
Essentially, the more we look at the game and think about it, the more promising it gets.