Shadow of the Mad King Returns to Guild Wars 2 Next Week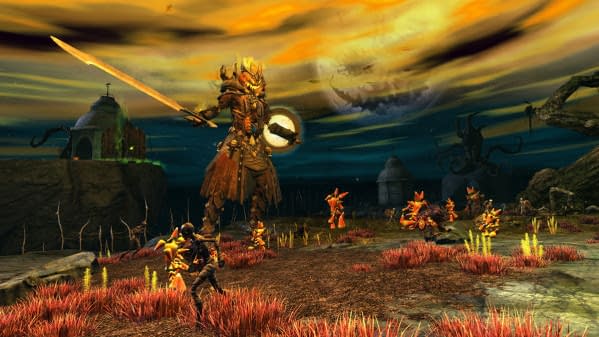 ArenaNet is bringing back the Shadow of the Mad King event for Guild Wars 2 so you can celebrate Halloween in-game starting next week. The event will return on October 16th and will run until November 6th, so you have more than enough time to enjoy some spooky times before the event disappears for another year.
This year, Guild Wars 2 players can expect to encounter the following Shadow of the Mad King bonuses:
Reaper's Rumble: Playable for the first time since the original GW2 Halloween celebration – the fast-paced PvP format returns to pit players against each other in a competition over pumpkins while spawning a hoard of skeletons to attack the enemy team's base.
Mad King's Raceway: New this year, the track was built on the same map as Reaper's Rumble that showcases the star mount of the current Living Story, the Roller Beetle.
Three new weapons: These took inspiration from real world horror tropes: a syringe that functions as a dagger called The Cure, a lightning rod players can wield as a sword called Soul Conductor, and a butcher knife players can use as an axe called Revenge.
Players who have completed Episode 3 of Season 4 of the living story can delve into the ancient rivalrybetween Mad King Thorn and Palawa Joko through a new collection achievement.
You can find more information on the event on the official Guild Wars 2 site.