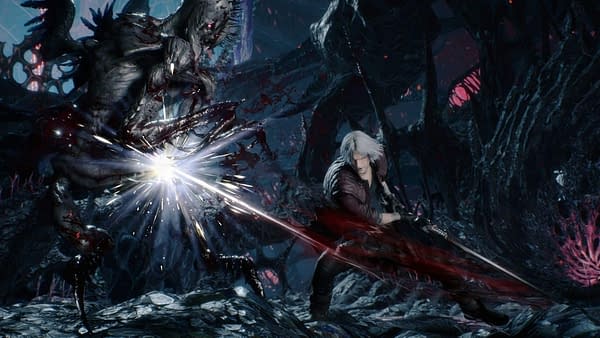 We're still a ways away from GDC 2019, in fact, the show is running in mid-March, but that hasn't stopped Capcom from pre-announcing some GDC plans. Capcom plans to host a talk session at the developer conference to discuss the design process of Devil May Cry 5. Confirmed session hosts include Game Director Hideaki Itsuno, Senior Producer Michiteru Okabe, and Producer Matt Walker.
Itsuno will work backward from the player experience of the game and the dev team's vision-based goals to reveal to the audience of fellow developers and members of the press how Capcom created a "standout action game."
The description for the panel reads:
Title: 'Devil May Cry 5': Creating a Standout Action Game

Session Description: In this Western talk, Capcom's Hideaki Itsuno, director of classic games including 'Power Stone 2', 'Dragon's Dogma', 'Rival Schools' and multiple titles in the 'Devil May Cry' series, partners with his colleagues Michiteru Okabe (senior producer) and Matt Walker (producer) to discuss the team's approach to making standout, impressive action games through the lens of 'Devil May Cry 5'. In this lecture, Itsuno will discuss how he works backward from a player experience and vision-based goal to build out compelling gameplay for the newest title in the 'Devil May Cry' franchise, and the visceral specifics that lead to a winning formula.
The Game Developer's Conference (GDC) 2019 takes place March 18th to the 22nd at the Moscone Convention Center in San Francisco, California.
Enjoyed this article? Share it!