Wizards Posts New "State of Arena" For February – "Magic: The Gathering"
Hello, loyal readers! I cannot believe I nearly overlooked this but Wizards of the Coast has added a new entry to their "State of Arena" series of update articles for Magic: The Gathering's esports interface. It's relevant because while it does highlight a few of the promises made in the previous State of Arena article, so far Wizards has yet to deliver upon them.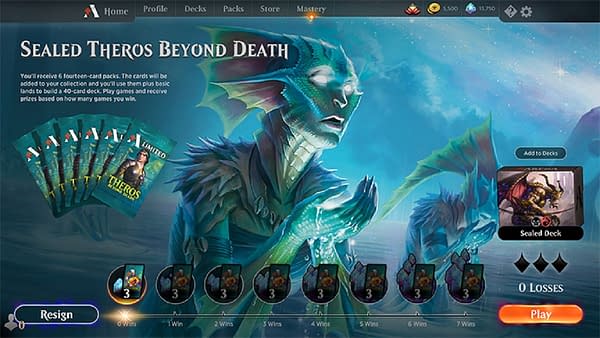 So, the first takeaway we as players receive from the State of Arena for February is that we are going to be getting more events coming our way, in addition to the Worlds XXVI event that we at Bleeding Cool wrote about recently. This isn't the biggest news we could get – that would probably be the inclusion of a brand-new feature in a soon-to-com update, something we (spoiler alert!) won't be getting from this article – but rather, it's a reasonable thing to expect from Wizards of the Coast in the first place. After all, they need to foster their new interface if they want the players to continue to back it financially.
The other takeaway, which is, again, in no way a surprise for us players, is that Wizards of the Coast is bringing out new cosmetics for the cards on Arena. This time, in addition to the same frame-changing effects they have for so many other older cards, we also get the basic lands to be different, all for the low low price of 3,000 gold apiece (or 15,000 gold total!).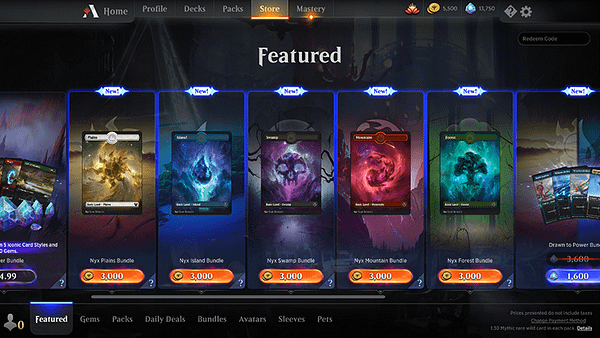 The basics from Theros: Beyond Death are certainly nice, as well as easy as heck to read (as they have no text box and don't require much inference as to what they are), but honestly? These should have been something to come as standard with Theros: Beyond Death, and I would not be surprised to see them available freely before Theros: Beyond Death rotates from Standard.
I kind of worry that the effect that a constant stream of cool things is going to wear off before too long, and that Wizards of the Coast would suffer before long once that happens. Let's hope that gut instinct is dead wrong, though, because I'm greatly enjoying Magic: The Gathering: Arena and want to play it whenever I have the time for it! I also wish that Wednesdays were not the only day for Brawl, but that may just be me.
Let's be honest, though, that's probably not just me.
But what do you think? Is Magic: The Gathering: Arena stretching too far with its cosmetic offerings and lack of brand new content? Or is it doing better than it ever has? Let us know your thoughts!