Wizards Reveals "Thalia"-Themed Secret Lair – "Magic: The Gathering"
Wizards of the Coast has done it again – they've released the second of the March Secret Lair box drops for their card game Magic: The Gathering! The release this time is a full playset of Thalia, Guardian of Thraben.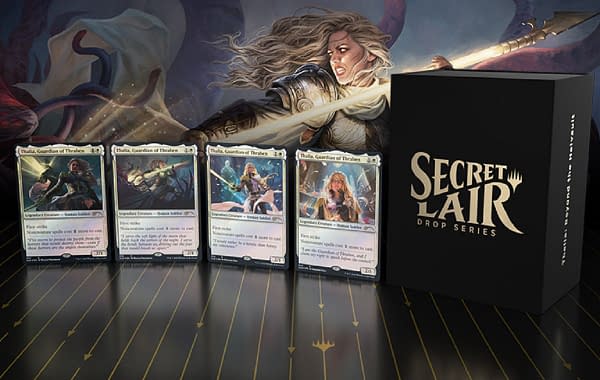 This four-card special edition release is geared mainly for Eternal players, as Wizards has said in the past that they want to have something for all of their players in the Secret Lair releases. However, that obviously does not limit its market to Legacy or Vintage fans. Commander players who want a single copy of Thalia might pool up with other players who are in the market for Thalias of their own, and that might ease up costs while giving those players what they want. Nifty, right?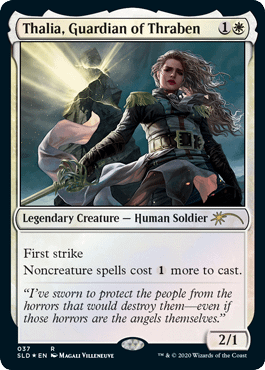 Like with all Secret Lair releases before it, the "Thalia: Beyond the Helvault" drop will only be active for a short while – 24 hours to be precise – and will start on March 12th (a week from today, March 5th) at 9:00 AM Pacific Time. And also like all other Secret Lair releases, this will be printed to order, at a price tag of nearly $30 USD. If you want to order more than 60 copies of Thalia, I have some bad news: This drop is limited to fifteen playset copies per customer.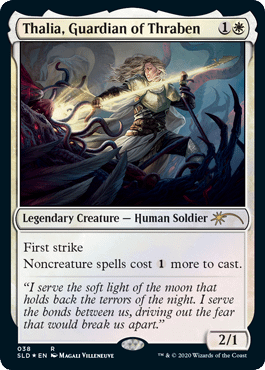 From the release announcement on DailyMTG.com:
Just like previous Secret Lair drops, Thalia: Beyond the Helvault will be available for 24 hours only at secretlair.wizards.com. This sale starts at 9 a.m. PT on March 12, and you can pick up your copy of Thalia: Beyond the Helvault for $29.99. Limit of 15 per customer.

Here's what you'll get with each copy of Thalia: Beyond the Helvault—

Four premium foil copies of Thalia, Guardian of Thraben, each with different art and flavor text
One code for MTG Arena that redeems for a digital sleeve featuring Thalia: Beyond the Helvault art and four cardstyles—one for each Secret Lair version of Thalia—for Thalia, Guardian of Thraben. These aren't copies of the card—those come in the bundle or through crafting—but they do make the copies of Thalia you own into something special. **

**[MTG Arena Redemption] is not available in the following regions: China, Hong Kong, Macao, Taiwan, and Vietnam.

Thalia: Beyond the Helvault is being published in English and features new artistic interpretations of Thraben's brave guardian by Johannes Voss and Magali Villeneuve, each depicting the character at a different pivotal moment in her life.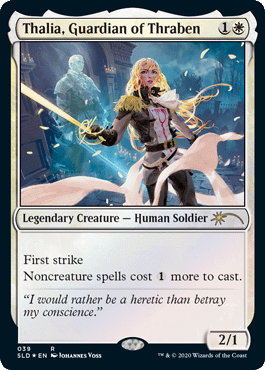 Excited? So are we! But do you have any feelings beyond just that? Let us know what you think. Is Wizards pushing Secret Lair to its limits? Or is this a good pace for the box drop service? Comment below and give us a piece of your mind!