Wizkids Reveals Dungeons & Dragons: Honor Among Thieves Collection
Dungeons & Dragons: Honor Among Thieves has a brand new collection of figures from the film available from WizKids.
---
WizKids revealed their special set of figures from the film Dungeons & Dragons: Honor Among Thieves, which you can buy as a collection. Being added to their D&D Icons of the Realms series, they have selected a set of characters you'll see in the film, and packaged them as a complete set to purchase for both to display and to use in your home game. The creatures for this set include a Displacer Beast, a Gelatinous Cube, an Intellect Devourer, a Mimic in their classic treasure chest form, and an Owlbear.
It's an interesting little collection that shows off enough of what you can expect to see in the movie, especially after the most recent trailer that highlighted some of these creatures inside the maze, but doesn't give away too much so that you're spoiled. And it was a nice touch to make all of the creatures sized so that they fit the standard sizing of a regular D&D game, giving you the ability to bring a piece of the film to your next adventure. We have more info about the set below as it is currently available for purchase on WizKids' website for $40.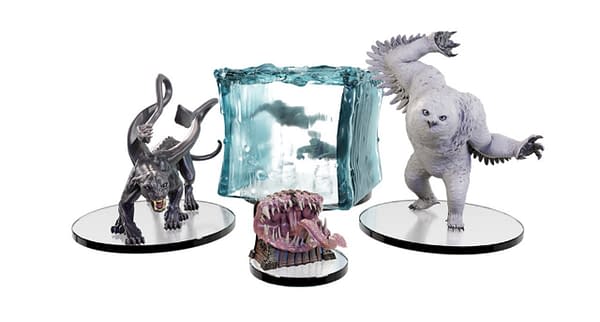 "D&D Icons of the Realms: Honor Among Thieves – Monsters Boxed Set is a new set of miniatures based on the upcoming theatrical release of Dungeons & Dragons: Honor Among Thieves! Collect some of the most iconic monsters from the Dungeons & Dragons universe in this exciting set. Capitalizing on their expertise in producing top-quality miniatures, WizKids has released an exclusive set of creatures that fans will recognize from the recently released movie trailer. Players will be able to seamlessly integrate their favorite big-screen beasts into their next campaign of the world's greatest roleplaying game. This set contains the following creatures."
Displacer Beast
Gelatinous Cube
Intellect Devourer
Mimic
Owlbear