Avengers: Infinity War Blu-Ray Steelbook Already Up For Preorder
Avengers: Infinity War is in theaters now and breaking box office records and shocking audiences worldwide. While there is no release date yet (obviously), collectors of home media are already wondering when they can get their hands on the film and watching it over and over until their Thanos-loving heart is content. Already, Best Buy has put up their steelbook collectors edition for preorder.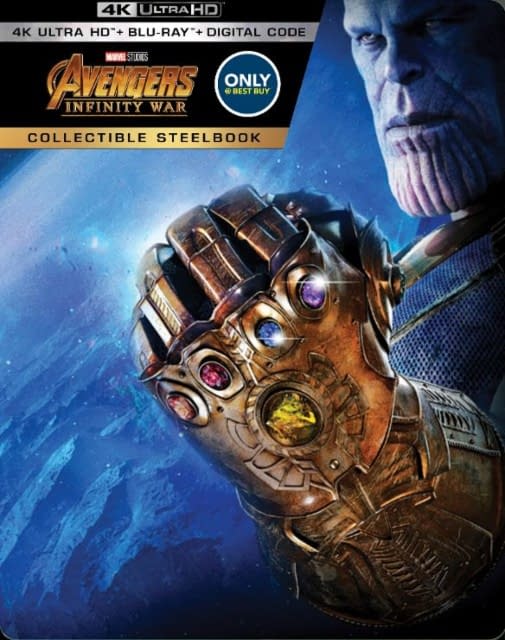 So far the only edition up for preorder is a 4k/Blu-Ray/Digital Copy version, but previous steelbooks have featured a Blu-Ray/Digital Copy edition as well. The listing also had a rumored date of August 14th attached and was taken down and replaced with the current page missing the date. So, we will have to wait and see on that. I love the look of this one with the Infinity Gauntlet on full display and Thanos wielding it. That's my guy right there.
It has not been uncommon for Best Buy to do this, not only with Marvel films but with Star Wars: The Last Jedi and many other new releases, they have the preorder pages and steelbook pictures up the weekend films have opened for awhile now.
Steelbook collectors like myself also know that not preordering and waiting to get one off the rack on release morning is tempting fate. I have missed films and paid more than retail for a great many releases in my day because I waited too long and didn't preorder. Usually when the Marvel films come out they are gone by the end of release day, or like earlier steelbook releases for Guardians of the Galaxy and Thor: The Dark World each store only got 6 TOTAL steelbooks. They have gotten a bit better, but as physical media sections shrink in Best Buy stores it is always a risk to not lock in a copy.
So don't take that risk. Infinity War will be in high demand. Preorder a copy now so that you don't miss out.