Black Lightning Season 1, Episode 11 Recap – Black Jesus: The Book of Crucifixion
This article contains spoilers for the Black Lightning season 1 episode Black Jesus: The Book of Crucifixion.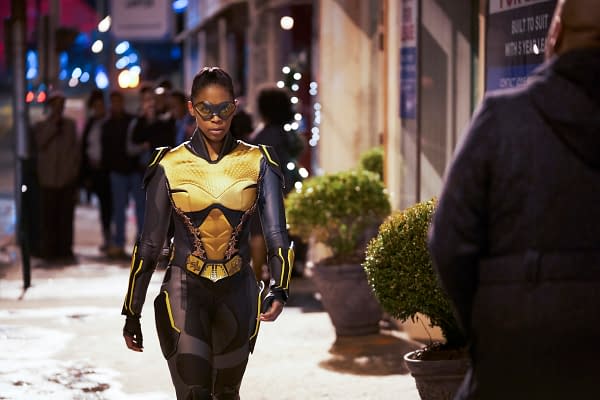 This episode picks up pretty quickly from the end of the last, wherein Martin Proctor (Gregg Henry) tells Kara Fowdy (Skye P. Marshall) that they believe Jefferson Pierce (Cress Williams) is Black Lightning. She has a hard time believing it and seems to have had a bit of a crush on Jefferson since the beginning of the season. She is ordered to deal with him, which involves her giving Deputy Chief Cayman (Anthony Reynolds) and Detective Glennon (Faron Salisbury) a ton of Green Light to frame Jefferson. Fowdy also checks with the tech taking care of the kids in the tanks and discovers that the vitals on one of them is off, but the tech says that is most likely from all the moving and should settle back down.
Meanwhile, Gambi (James Remar) guides Black Lightning and Thunder (Nafessa Williams) to a warehouse where they think the kids in the tanks are being kept, but it turns out to be an armory filled with the guns built to kill Black Lightning. They destroy the weapons and leave. Gambi has to try to come up with a new way to find the kids.
The next day the police arrive at Garfield High and search Jefferson's car, where they find a big bag of Green Light and some more in his desk. He is arrested, and while both his daughters and his students try to stand in the cops' way, Jefferson gets everyone calmed down so nothing bad happens. He is taken in, booked, and strip searched. Bill Henderson (Damon Gupton) sees this happen and knows he's being framed; he starts looking into Cayman and Glennon.
They won't let Lynn (Christine Adams) see Jefferson because they aren't currently married. She starts looking for a lawyer while Anissa goes to Gambit to talk about how they'll break Jefferson out. Gambi assures her that if Jefferson wanted out that way, he could make that happen himself. He knows the ASA playbook. They'll take him from police custody to a black site where they'll confirm he's Black Lightning and then kill him. To prevent that, they need to convince the ASA that Jefferson is not Black Lightning, and Gambi has a plan.
The plan is simple: Thunder makes an appearance in public, drawing lots of attention and then a van speeds through the city and she gives chase. Gambi puts a hologram projector on her belt so the lights flash, and suddenly Black Lightning is running beside her as they chase the van. They get on the news, and Fowdy sees it, makes contact with the ASA telling them and asking to get Jefferson released. They basically turn her down. They've already set up the transfer of Jefferson to their custody.
However, Henderson followed the money and found plenty of evidence that Glennon had been taking bribes. Glennon admits to setting up Jefferson and implicates Cayman in enough crimes that Henderson has them both arrested while having Jefferson released. Jefferson goes home to be with his family, and Gambi joins them. Jefferson is trying to find a way to trust Gambi again. And we see a press conference about the exoneration of Jefferson and the arrest of Cayman. We also find out that Henderson is the new Deputy Chief.
Black Lightning did something in this episode that a lot of other series don't: they cut out all of the other storylines to focus on just one. The ASA fighting back by framing Jefferson and how he gets cleared by a good cop surrounded by corrupt officers. They put aside the 100, Lala, and Tobias Whale. Yes, this is a superhero show with powers and technology, but they showcased the real issues in the legal system and systemic racism. When the local news interviewed people after Jefferson's arrest, the two people who knew him defended him, but the woman who knew nothing about him assumed he was guilty and spread rumors. This was a really strong episode that mixed serious social and political issues through the eyes of a genre series — something the show has excelled in doing.
With only two episodes left, though, it's time to ramp things back up as Tobias Whale (Marvin 'Krondon' Jones III) returns and it looks like we more with the resurrected Lala (William Catlett). But if it seems like the season is coming to an end too quickly, take solace in the news that Black Lightning has been renewed for a second season. No word yet if the second season will be more than 13 episodes or when it will return. Hopefully we'll get that new during the upfronts in May.
https://youtu.be/SvgO5cD2Eho