The Legends Have A New Leader… But For How Long?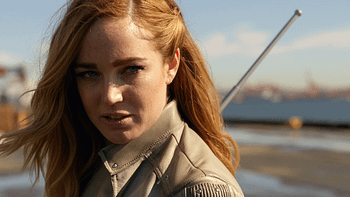 In the most recent episode of DC's Legends of Tomorrow, the new leader for the team was found since Rip Hunter (Arthur Darvill) has vanished. But the new leader, Sara Lance (Caity Lotz) is best known as an assassin… normally a loner job. How will she do with being in charge?
Executive producer Marc Guggenheim told EW.com:
As you start to see her become more and more comfortable in being the leader of this rag-tag group, it's so much fun to watch her. The character's embodying the role of a leader, Caity's performance really embraces it. It turns out to be one of the most successful things we've done in season 2.
And her focus is not going to be finding Rip.
That's going to be something that's always going on in the background, and in some cases the foreground, of the various episodes. To a certain extent, we don't want to change the mission statement from fixing aberrations to going and saving Rip. The bat has been taken out of their hands because there's no way to find Rip, so what would they do? You will find out [what happened to Rip] before the Legends do.