Let's Talk About AMC Visionaries: James Cameron's Story Of Science Fiction Episode 1
There is no arguing the impact James Cameron has had on the film industry. From a piece of tape over a camera to create a signature effect in Escape From New York to resetting expectations of what CGI effects can be, Cameron has truly made himself a force in the art form.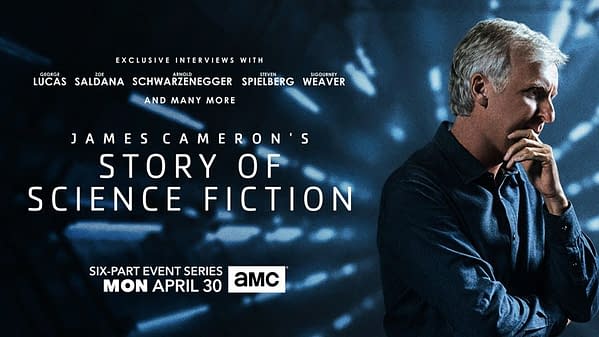 His newest project is a season of the AMC multi-part series Visionaries, a mini-series devoted to creators and what makes them tick. The previous season saw The Walking Dead creator and one of Image Comics' founders Robert Kirkman talking about comics. Cameron's season centers around Science Fiction, with some seriously awesome cameos and interviews.
The first episode "Aliens" has two titans of film, James Cameron and Steven Spielberg, talking about what got Spielberg interested in sci-fi as a genre. His father took him to see the Pleiades Meteor Shower, which he attributes to his early love of extra-terrestrial possibilities and a hope that they will "come in peace".
Diving heavily into Close Encounters Of The Third Kind, a theme is brought up- the lengths mankind would go to in order to communicate.
A wonderful clip of Ray Bradbury speaking about Close Encounters, saying that he'd seen it several times and had cried every time. "It's the most important film of the last 20 years."
The next section talks about the polar opposite, Independence Day.
Dean Devlin and Roland Emmerich talk about Independence Day
Devlin mentions that Jeff Goldblum's "must go faster" line in ID4 was directly taken from Jurassic Park
Will Smith says that Independence Day captured what he dreamed of as a child, and he tried to bring a sense of the everyman dealing with the impossible.
H.G. Wells "War of the Worlds"- how making it the general populace affected by invasion was his stab at English Colonialism.
"I wouldn't have done War of the Worlds if not for 9/11. America is not used to being attacked," Spielberg said.
Then Christopher Nolan joins Cameron, and they talk about the possibility of intelligent life. The conversation then goes to Contact, and how Carl Sagan was interested in human communication.
Sigourney Weaver loved Arrival, so did Keanu Reeves.
Then George Lucas stops by, and the two talk about aquariums as the ultimate influence for aliens.
***
It's novel to hear these filmmakers and actors speak to (and about) Cameron one on one, seeing Lucas light specifically is something we haven't seen in a long time.
James Cameron's Story Of Science Fiction has 6 episodes, and airs on Monday nights on AMC.