Lucasfilm Deletes Fan/Collecting/Podcasting Sites Section From StarWars.com
Lucasfilm has a long, long history of working very closely with their fan community and have for decades. From the Bantha Tracks days through today's hornets nest of Twitter and other social media, Star Wars fans have always been able to engage with the employees and creatives behind the galaxy we all love. However, because of certain groups of Star Wars fans, we may now lose some of that access.
Lucasfilm has removed the "Fan/Collecting/Podcasting Sites" section from the StarWars.com website. This is where they listed news sites, collecting sites, and podcasts that talked about all things Star Wars. Here is what it used to look like before they removed anything.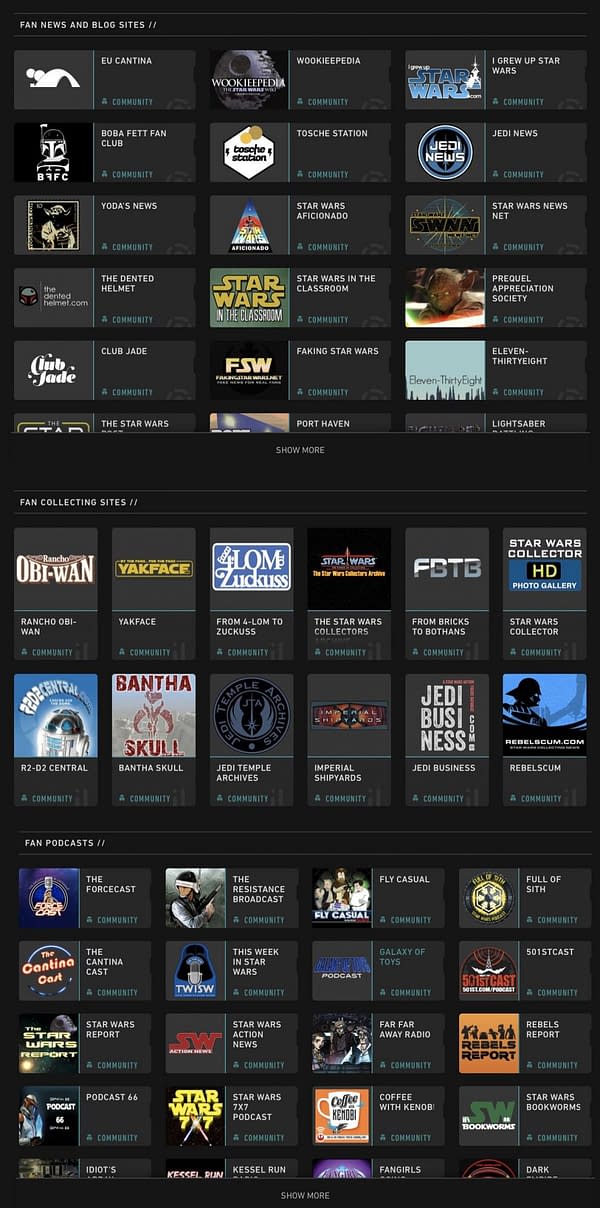 In its place, they have this statement where the sites were previously listed:
Notice: Lucasfilm Ltd. strives to foster an inclusive, diverse and safe environment for our fans and we ask the same of our fan community.

Fan organizations, websites, blogs, clubs, podcasts, social media accounts, etc. are not owned, endorsed, sponsored, controlled, or in any way affiliated with Lucasfilm Ltd. or The Walt Disney Company, and do not necessarily reflect the views or opinions of Lucasfilm Ltd., The Walt Disney Company or any of their affiliates, and no warranty expressed or implied is made regarding accuracy, adequacy, completeness, legality, reliability or usefulness of any information. Please see terms of use agreements and privacy policies that apply to such third-party services and content. Star Wars logos, trademarks, character names, and all related elements © & ™ Lucasfilm Ltd. and/or The Walt Disney Company.
It is worth noting that Fan Organizations like the 501st Legion, Rancho Obi-Wan, and others are still listed. This is a very sad development. When they launched the new StarWars.com in 2014, two years after the Disney acquisition, many fan and collecting sites were proud to be listed there as places fans could get news and updates on productions, collectibles, or just talk Star Wars. Many collecting groups were also part of that both in the states and international including the Ohio Star Wars Collecting Club, of which I am a member.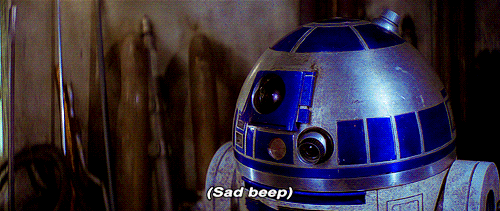 It doesn't take someone strong with the force to know figure out why this is happening. Since around the summer before Star Wars: The Last Jedi hit theaters, there has been a ton of toxicity and anger associated with Star Wars as a brand. Certain fan sites and YouTube channels, some of which were previously listed on that page, have turned into very hateful and damaging places to discuss Star Wars. That is to say nothing of how often Lucasfilm employees and people associated with the current films are attacked on social media even leading some to quit the platforms altogether.
Predictably, this is leading to Lucasfilm closing up ranks a bit. It is sad that it has come to this, and should make Celebration in Chicago in April interesting to say the least. Hopefully, at some point, this can all go away and we can get back to being the great fan community that Star Wars deserves.
First reported on by the excellent Yakface, where that screenshot also came from.
---
---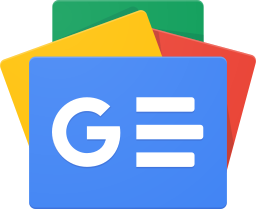 Stay up-to-date and support the site by following Bleeding Cool on Google News today!