This article contains potential spoilers for tonight's Monday Night RAW live event. Tonight's episode of WWE Monday Night RAW is taking place in Los Angeles at the Staples Center, and fans could be treated to a rare appearance by Attitude Era star and WWE Hall-of-Famer "Stone Cold" Steve Austin. Dave Meltzer reported on his Wrestling Observer Radio show that WWE has printed Los Angeles 3:16 shirts to sell at the show, and the superstar was spotted at the arena as reported by dirt sheets. Those two facts combined suggest that Austin will be making a live appearance before the crowd, though it's not a sure thing that he will appear on TV.
Austin, who lives in LA, could be at the event to interview someone for his podcast, or just to say hello to old friends. Then again, with ratings in the dumpster, Stone Cold could be returning for short term ratings-boosting role, perhaps as a special referee in an upcoming match or a hosting gig at SummerSlam. Maybe he's just there to make Roman Reigns look strong ("Austin 3:16 says you're the real Texas Rattlesnake, Roman"). Either way, if you're thinking of skipping RAW tonight because you don't want to slog through more than three hours of social media promotion and recaps of what happened earlier in the night just to see twenty minutes worth of actual wrestling, you might want to think about tuning in to get a healthy dose of pro wrestling's most marketable commodity: nostalgia.*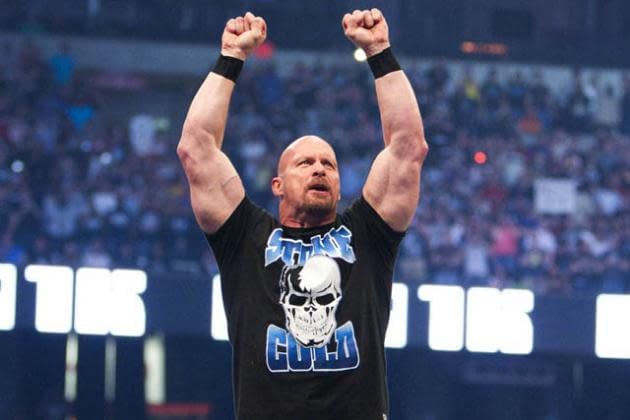 *Yet another thing pro wrestling and comics have in common.
Enjoyed this article? Share it!