Jamie Foxx Says His Mike Tyson Biopic Is Now A Go
Jamie Foxx has been trying for quite some time to get a Mike Tyson biopic off the ground. It looks like he may finally get his wish. On an appearance on the Mike Birnbaum's Instagram series Catching Up (what world is this), Foxx talked about the film finally getting off the ground and becoming a reality. You can see his quotes about the film and what he is doing to bulk up down below.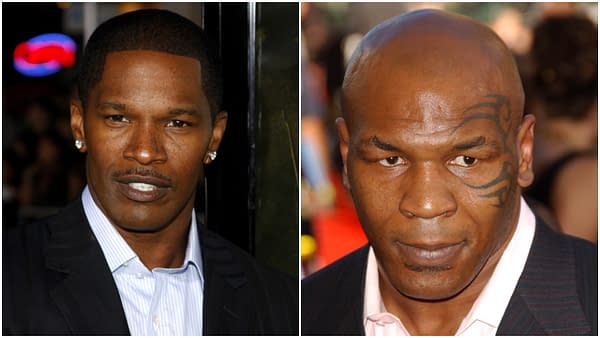 Mike Tyson is a Problematic Subject
"It's a definitive yes. Look, doing biographies is a tough thing. Sometimes it takes 20 years to get them done. But we officially got the real ball rolling. We want to show everybody evolves," Foxx said. "I think when we lay the layers on Mike Tyson in this story, I think everybody from young and old will be able to understand this man's journey."
Obviously, technology will have to play a part in Foxx playing the role as well, which he also elaborated on, as well as what he is doing to try and replicate Tyson's legendary physique: "And then just the technology of how I'm gonna look, I guarantee you people will run up on me in the street, and ask for autographs, and think that I'm Mike Tyson," he added. Every other day, I do 60 pull-ups, we do 60 dips, we do 100 push-ups," Foxx said, quipping, "I ain't got no calf muscles, so we might have to get some prosthetics for that." You can see the full interview with the quotes about the pic below.
This is going to be an interesting project to track. I just asked my wife, "Hey, would you watch a Mike Tyson biopic starring Jamie Foxx?" when I saw this news, and she responded no. Tyson was no doubt one of the best ever to put on the gloves, but his personal demons and crimes have left a sour taste in people's mouths over the years. It will be interesting to see how audiences respond to the latter part of his life depicted in the film.