"The Green Hornet": Amasia Entertainment Acquires Film Rights
The Green Hornet found its latest home in Amasia Entertainment. The company secured the film rights to the IP in a bidding war, according to Deadline Hollywood. What originally began as a 1936 radio adventure serial had multiple adaptations. The first was a live-action serial in 1940. The second is the short-lived ABC live-action television series (1966-67) starring Van Williams as Britt Reid and Bruce Lee as his partner, Kato. The third is the 2011 live-action film for Columbia Pictures starring Seth Rogan and Jay Chou as the duo.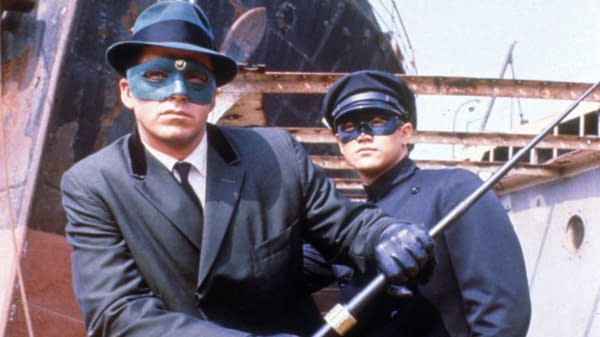 "The Green Hornet" – History
The IP bounced around multiple studios in Universal Pictures, Dimension Films, Miramax, and Paramount Pictures. Created by George W. Trendle and Fran Striker, The Green Hornet was introduced in a Detroit radio station preceding DC's Batman and Robin by four years.
Reid is a newspaper mogul by day and fights crime by night under a mask as the Green Hornet. Kato is Reid's valet by day and fights crime alongside him at night. The two go undercover in the criminal underworld and often bust their operations from within.
Michael Helfant and Bradley Gallo founded Amasia. Helfant once served as Marvel Studios president and COO. He hopes to build around the superhero.
"This is one of the only stand-alone classic superhero franchises. We're a bunch of fan geeks at Amasia and are thrilled about creating something fresh and truly worthy of this legacy property. A new world that is relevant and thrilling, while respecting and honoring the original vision."
ABC Series
The ABC series holds a special place in Helfant's heart.
"When I was a kid, The Green Hornet was one of my favorite television series. I loved everything about it: the Green Hornet, Kato, and of course, the Black Beauty. They were the coolest! It was personally painful to leave them all behind when I left Dimension. So I tried to option the property again at Marvel before it went over to Sony, and then again in 2017 before the rights landed at Paramount."
Lee was the show's biggest beneficiary since its popularity in Hong Kong vaulted him to superstardom overseas. He achieved his acting dream becoming cast in leading roles in films.
Gallo is a former CNN journalist, who shares Helfant's passion for the hero and looks forward to the on-screen possibilities.
"As long as I've known Michael, he has expressed his loving 'nerdom' for Green Hornet and passed on his addiction to me. I am looking forward to bridging the film worlds of America and Asia – and I'm very grateful to be on this journey with Michael, Amasia, the Green Hornet family, and fellow fans!"
Directed by Michel Gondry and written by Rogan and Evan Goldberg, the film also starred Christoph Waltz, Cameron Diaz, Edward James Olmos, David Harbour, and Tom Wilkinson. The film flopped at the box office garnering $227.9 million globally. It also failed to break $100 million domestically.