"Black Christmas" Writer Says PG-13 Rating Due to Test Screenings
Some horror fans are scoffing that the latest Black Christmas remake is rated PG-13 instead of R like its predecessors. Directed by Sophia Takal and co-written by April Wolfe, the film received unexpected backlash. Wolfe took to social media to defend the change due to test screenings.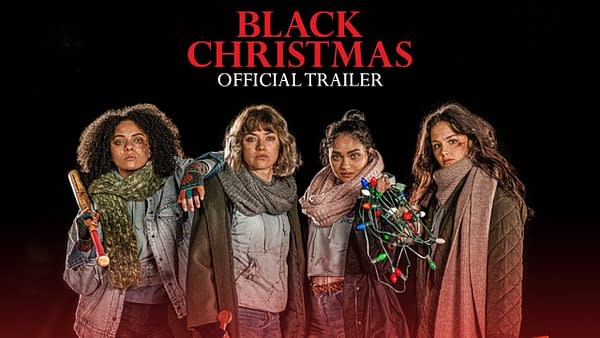 https://twitter.com/AWolfeful/status/1194694974626881536
Both "Black Christmas" Films Were Box Office Success
Blumhouse's Black Christmas is the second remake of the 1974 classic. Directed by Bob Clark and written by Roy Moore, the 1974 film starred Olivia Hussey, Keir Dullea, and Margot Kidder. The film grossed $4 million in the box office from a mere $620,000 budget.
Director Glen Morgan wrote the 2006 film starring Kate Cassidy, Michelle Trachtenberg, Mary Elizabeth Winstead, and Lacey Chabert. From a $6 million budget, it was a modest success at the box office with a take of $21.5 million.
Wolfe followed with additional tweets supporting the decision and how expanding the audience benefits the film.
https://twitter.com/AWolfeful/status/1194698242547576832
https://twitter.com/AWolfeful/status/1194700200041799680
https://twitter.com/AWolfeful/status/1194714014200131585
Don't Judge a Book By Its Cover
Entering the fray, director Jovanka Vockovic's defense of the film stating the case that quality horror films aren't all R-rated.
"Hawthorne College is quieting down for the holidays. One by one, sorority girls on campus are being killed by an unknown stalker. But the killer is about to discover that this generation's young women aren't willing to become helpless victims as they mount a fight to the finish."
Black Christmas stars Imogen Poots (Green Room), Cary Elwes (Saw, Stranger Things), Aleyse Shannon (Charmed), Brittany O'Grady (Star), Lily Donoghue (The Goldbergs, Jane the Virgin), and Caleb Eberhardt.
The film hits theaters December 13th. Are you looking forward to it? Do you think much will change between the R and PG-13 versions?