Opinion: "Brawl" Decks Have Scarcity Issues – "Magic: The Gathering"
I picked up a copy of the "Knight's Charge" preconstructed Brawl deck for Magic: The Gathering yesterday. I quickly learned thereafter that it was an investment that was made amid a temporary and artificial scarcity on the part of Wizards of the Coast's methodologies. The biggest issue I had with picking this deck up was that my local gaming store was selling these decks for $40 USD apiece. I was informed that most stores were doing this but soon found that big-name stores like Target and Wal-Mart were selling them for $21 USD, which is just over half of what my local gaming store was selling for. Part of the blame is upon whoever it was on Wizards' marketing team who decided to get rid of the manufacturer's suggested retail price (or MSRP) for Magic: The Gathering products starting with War of the Spark.

Part of the blame is on me, though, for not looking at research into this release. Apparently, according to a few different sources (like this post on Reddit), the Brawl decks are due to be re-released in mid-to-late November of this year. That means the prices will go down even more, and even my local store will probably be selling them for much less than the $40 they charged me.
According to The Professor on his YouTube channel, Tolarian Community College, these decks are great and almost a must-buy product… as long as they're being bought at the price point set by Target, et al.
In Brooklyn, New York, Instagram user @ramp_gang commissioned a visual guide to what locations in the borough had the best rates on these decks. The results were actually quite varied.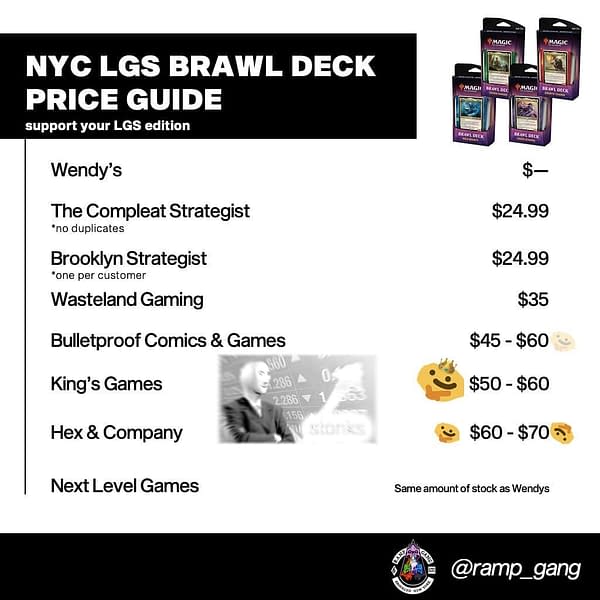 I'm glad they make a point to tell players to support their local stores but still do not pull punches when considering the absolute marking-up that some stores do. I, personally, bought the deck with some of my store credit. It still felt like too much.
While I did get this for my partner, I wanted to take the copy of Arcane Signet for myself, which was fine as apparently the "Knight's Charge" deck was still more than worth it, financially. However, if I was only to have gotten a Brawl deck for an Arcane Signet, I would be greatly dismayed in the end.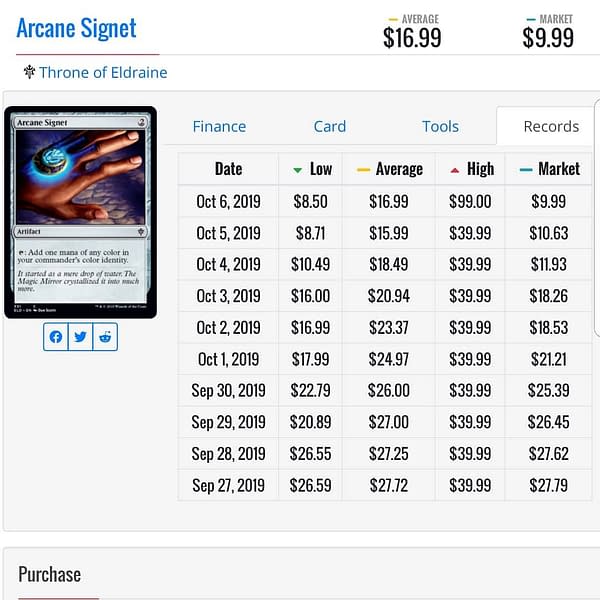 This is from two days ago. Allegedly the price is starting to stabilize but when the Brawl decks get a second printing, this price will destabilize and plummet like a rock in a pond.
So yeah, I'm more than a little upset with my local store. If you have paid $40 USD or more for a Brawl deck, you have every right to be angry as well. Let it out in the comments. I know what that's like. We've all been there.