Amazon Bringing Iain M. Banks' Sci-Fi Novel Consider Phlebas to Series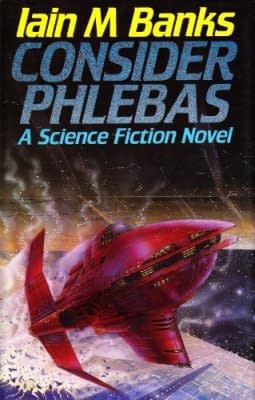 Amazon Studios continues its push into epic, big scope series programming, securing global rights to bring Iain M. Banks' sci-fi adventure novel Consider Phlebas to series television. The first in the classic "Culture" book series is set to be adapted by Dennis Kelly (Utopia), with Brad Pitt's Plan B Entertainment (World War Z, Moonlight) producing and the Estate of Iain Banks serving as executive producer.
"Iain Banks has long been a hero of mine, and his innate warmth, humor and humanism shines through these novels. Far from being the dystopian nightmares that we are used to, Banks creates a kind of flawed paradise, a society truly worth fighting for—rather than a warning from the future, his books are a beckoning." – Dennis Kelly
Banks' Culture is a fictional interstellar utopian society where humanoids, aliens, and advanced artificial life forms live in socialistic environments throughout the Milky Way galaxy. Originally published in 1987, here is an overview of Consider Phlebas:
The war raged across the galaxy. Billions had died, billions more were doomed. Moons, planets, the very stars themselves, faced destruction, cold-blooded, brutal, and worse, random. The Idirans fought for their Faith; the Culture for its moral right to exist. Principles were at stake. There could be no surrender.

Within the cosmic conflict, an individual crusade. Deep within a fabled labyrinth on a barren world, a Planet of the Dead proscribed to mortals, lay a fugitive Mind. Both the Culture and the Idirans sought it. It was the fate of Horza, the Changer, and his motley crew of unpredictable mercenaries, human and machine, actually to find it, and with it their own destruction. The series will focus on Horza, a rogue agent tasked by the Idirans who's tasked with recovering a missing Culture "mind," an artificial intelligence with the potential to destroy the entire Culture..
"The story of the Culture is so rich and captivating that for years Hollywood has been trying to bring this utopian society to life on the screen. We are honored that we have been chosen, along with Dennis Kelly and Plan B Entertainment, to make Consider Phlebas into a television series we think will be loved by fans for years to come."

– Sharon Tal Yguado, Head of Scripted Series, Amazon Studios
Consider Phlebas is another example of Amazon's "go big" initiative when it comes to genre programming, moving forward on large scale science fiction, action, fantasy and horror projects as a way to establish "tent pole" series similar to HBO's Game of Thrones, AMC's The Walking Dead and Netflix's Stranger Things. Amazon's recent deals include series/projects based on Lord Of the Rings, The Dark Tower, Wheel of Time, Ringworld, Lazarus and Snow Crash.