Hamilton's Renee Elise Goldsberry Sings New 'Muppet Babies' Theme
Muppet Babies are back, and they've enlisted a heavy-hitting singing talent to help them keep making dreams come true. Hamilton's Renée Elise Goldsberry has been tapped to sing the theme song ahead of its March 23 premiere. The series is set to premiere with two back-to-back episodes on Disney Channel at 10 a.m. ET; and also on the DisneyNOW app.
The new series features the adventures of Kermit (Matt Daner), Piggy (Melanie Harrison), Gonzo (Ben Diskin), Fozzie (Eric Bauza), and Animal (Dee Bradley Baker) – with the addition of purple penguin Summer (Jessica DiCicco) – all under the somewhat watchful eye of Nanny (Jenny Slate).
"Summer is kind of our art girl. She's super creative. She loves to draw, she loves to paint, she loves to dance — all at the same time. She's the smallest of the group, but she definitely has the biggest heart." – Tom Warburton
Here'a a look at Tony Award-winner Goldsberry's rendition, reported originally and exclusively by Entertainment Weekly:
https://youtu.be/GS-J156RQv0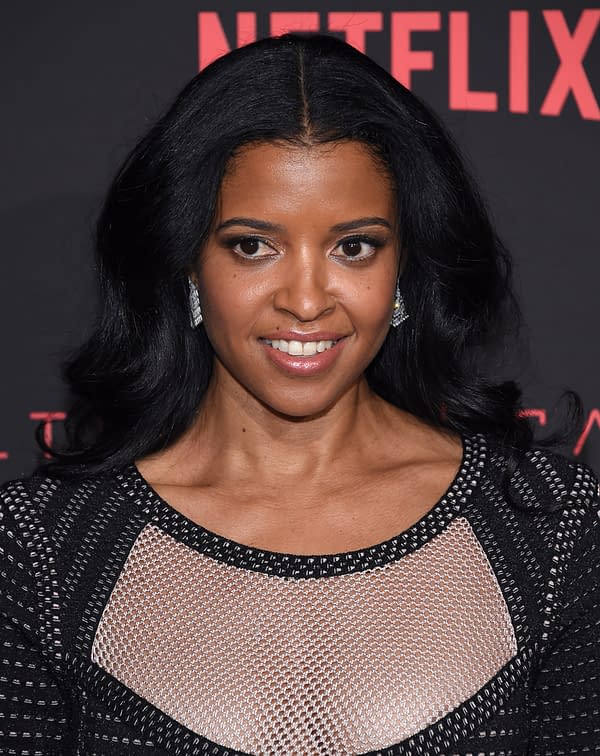 "The vibe is so fun. It's like that wonderful period where music was really bouncy and really melodic." – Renée Elise Goldsberry
Muppet Babies executive producer Tom Warburton and Muppets Studio collaborated on a female character that would both compliment and as well as contrast Piggy. Statler and Waldorf, Bunsen and Beaker, Rowlf the Dog, Rizzo and Dr. Teeth are expected to make guest appearances, but bad news for Skeeter fans: he won't be making the cut as a series regular in this version.
"It was me and our art director Chris Moreno sitting in a room just doodling and drawing, and I came up with this little sketch of a lollipop-shaped penguin with a turtleneck. We probably did a hundred different characters trying to figure out who this was going to be, and when we came into Disney Junior with this penguin and a couple others, they immediately went to the penguin and said, 'That one.' We have that original drawing hanging in the studio now." – Tom Warburton
Walt Disney Records will be releasing additional songs from the Muppet Babies soundtrack digitally on Friday.