Grey's Anatomy Star, Showrunner Blast Deadline Hollywood over Report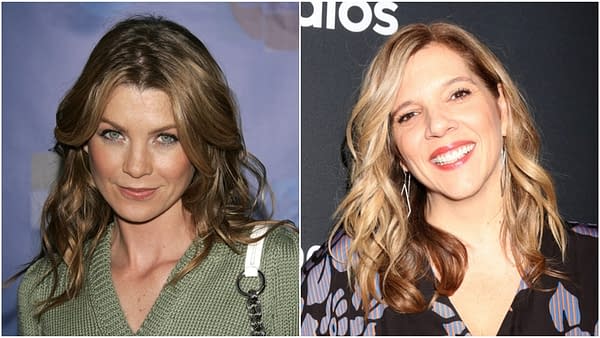 Someone might want to tell Deadline Hollywood that Grey's Anatomy star Ellen Pompeo and showrunner Krista Vernoff need to have a few words with them. Taking issue with what they felt was the entertainment news website's insinuation that her recent contract negotiation contributed to her costars Jessica Capshaw and Sarah Drew being let go at the end of the 14th season, Pompeo took to Twitter to chastise the site and call them out for pitting women against one another:
Grey's Anatomy showrunner Vernoff echoed Pompeo's sentiments and went even further:
"The suggestion … that our cast changes are in any way related to Ellen Pompeo's salary renegotiation is wrong and hurtful and misguided. It smacks of an old, broken, patriarchal notion that women must be pitted against each other and that one woman's success will be costly to others. Ellen Pompeo has not only advocated passionately for her fellow cast members. [S]he has taken the time to educate women worldwide as to how to advocate for themselves and that must not now be twisted. The decision to make changes to our cast was a creative one. The only thing as constant on Grey's Anatomy as Ellen Pompeo is our penchant for reinvention. It is a part of our success and what keeps the show exciting. We love these actresses and we love these characters and it felt true and right creatively to wrap up their stories. And that is the whole story."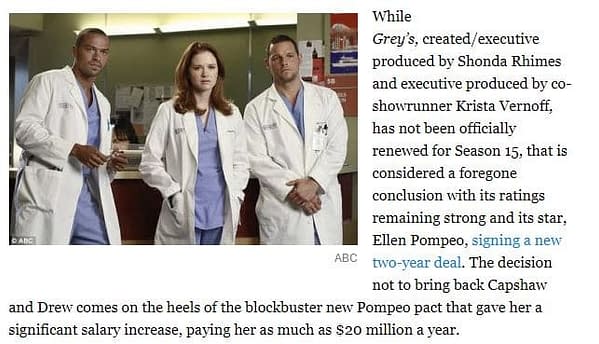 Deadline Hollywood was the first to report that Drew and Capshaw would not be returning for Grey's Anatomy's Season 15 due to creative/storyline decisions, though the series has yet to be officially renewed by ABC for a new season. The screen grab from the original Deadline post show the line in question:
"The decision not to bring back Capshaw and Drew comes on the heels of the blockbuster new Pompeo pact that gave her a significant salary increase, paying her as much as $20 million a year."
For their part, Drew and Capshaw also took to social media to express their feelings about the news; and to show their love and appreciation for the fans:
"For the past 10 years, I have had the rare privilege of not only playing Arizona Robbins, but also being madly in love with playing her. Arizona Robbins is kind, intelligent, funny, insightful, bold, playful, fierce and really good at her job. She was one of the first members of the LGBTQ community to be represented in a series regular role on network television. Her impact on the world is permanent and forever. Forever. I am grateful that I have gotten to bring her to life and for the life that she has brought to me. I am sad to see her go, but I am consoled by the idea that she will continue to live on and on in all of our consciences and our imaginations. Shonda, thank you for the ride on this incredible rollercoaster. With a heart full of love, Jessica."
"Thank you for all of the love. I know you're sad. I'm sad too. I haven't really had the time to process this information. I've been with it for less than 48 hours, so I'm not ready to say my thank yous and give an all encompassing statement about my 9 years here. That will come later. For now, I'd like to say: I love you, and I love April, and her story isn't over yet. And the really good news (for me, at least) is that I'm here on set shadowing one of my favorite people, Kevin McKidd, with my beloved Grey's family all this week and next, so I get to process all of my feelings surrounded by the community that has nourished and nurtured me for almost a decade. For that, I am grateful."