True Detective Season 3 Shuffle: Game of Thrones' Jeremy Saulnier Leaves, Jack Ryan's Daniel Sackheim to Direct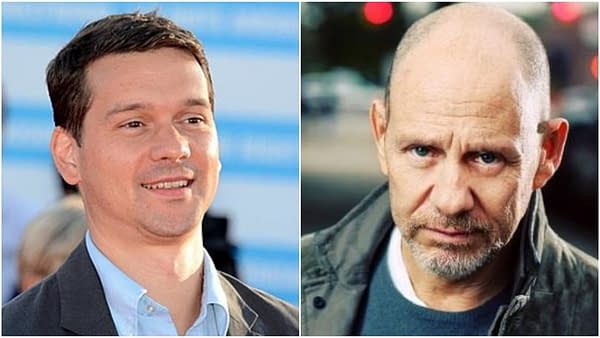 With the third season of Nic Pizzolatto's crime anthology series True Detective having completed production on the the season's first two episodes, Game of Thrones director Jeremy Saulnier (Green Room) is leaving the HBO series and Jack Ryan's Daniel Sackheim (The Americans) is coming aboard. Sackheim will share directing duties with series creator/executive producer Pizzolatto, who is making his directorial debut this season.
Citing scheduling conflicts as the cause of Saulnier's departure, HBO released the following statement:
"Director and executive producer Jeremy Saulnier has completed the first two episodes of 'True Detective' Season 3 and will be departing the production due to scheduling issues. Daniel Sackheim has come on board as a director and executive producer for the series alongside series creator and director Nic Pizzolatto,"
Sources in the original Variety report that HBO is happy with the scripts for the third season; though it was also reported location filming in Arkansas has been difficult at times, and that Pizzolatto and Saulnier have had differing views on the episodes. After filming on the second episode was complete, it became clear to both the cable giant and Saulnier that the project would run long and potentially conflict with his ability to take on additional projects.
Set to tell the story of a macabre crime in the heart of the Ozarks and a mystery that deepens over decades and plays out in three separate time periods, the third season cast of True Detective includes: Mahershala Ali (Moonlight), Carmen Ejogo (Selma), Stephen Dorff (Blade), Scoot McNairy (Godless), Mamie Gummer (Side Effects), Ray Fisher (Justice League), Michael Greyeyes (Fear the Walking Dead), Jon Tenney (The Closer), Rhys Wakefield (The Purge), Sarah Gadon (Alias Grace), Emily Nelson (Code Black), Brandon Flynn (13 Reasons Why) and Michael Graziadei (Good Girls Revolt).
Though few specifics are available on the show's season 3's storyline and characters, here's what we do know about some of the players. Ali will play the lead role of Wayne Hays, a state police detective from northwest Arkansas. Dorff will play Wayne's partner Roland West, an Arkansas State Investigator who, along with his partner, has his life and career influenced over three decades by a baffling crime. Ejogo will play Amelia Reardon, an Arkansas schoolteacher with a connection to two missing children in 1980. McNairy will play Tom, a father who suffers a terrible loss that ties his fate to that of two state police detectives over 10 years. Fisher will portray Freddy Burns, son of Wayne Hays.
For some of the characters, we've only been given their names at this point. Wakefield, Greyeyes, and Tenney are set for Henry Hays, Brett Woodard, and Alan Jones, respectively; with Gadon as Elisa Montgomery and Nelson as Margaret. Flynn will portray Ryan Peters and Graziadei is set to play Dan O'Brien.
Pizzolatto is listed as lone writer for the third season of True Detective (minus one episode, co-written with David Milch), as well as showrunner. He also serves as executive producer this season alongside Scott Stephens; Matthew McConaughey and Woody Harrelson; Season 1 director Cary Joji Fukunaga; Scott Stephens, Steve Golin, Bard Dorros and Richard Brown.