Marilyn Weiss writes for Bleeding Cool…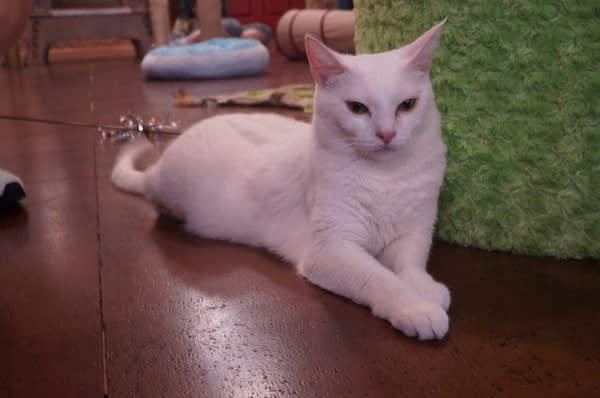 There are a lot of places to grab a bite to eat during SDCC. I know I've had enough pretzels and pop to last me a lifetime. But this year I wanted to try something a little different. Within a few blocks of the convention center there is a Cat Café where patrons can grab a coffee and a pastry and sit down with some cute cats. It's a place I had learned about through one of those "Things to do outside of the Con" guides and I hoped to visit last year but hadn't found the time.
The Cat Café has been open in San Diego for two and a half years now. The café teamed up with a local shelter, the Rescue House, and since its opening has helped local 240 cats find homes. During most of the year visitors can come in for as long as they would like to play with the cats, and of course, adopt them and take them home. However, during SDCC the café suspends its adoptions.
But that doesn't mean you can't visit the cats. Increased foot traffic means that they café works on a reservation system during the con. Visitors can sign up for a time slot online, then come in and enjoy coffee and play with cats. All of the money spent at the café supports finding the cats loving homes. Sessions are limited to 45 minutes and the café allows 15 people in at one time so as not overwhelm the animals.
I stopped in for my lunch, and oh my goodness it made my whole day better. The coffee and cookie I got were tasty but obviously the highlight was the cats. It was a fun little break from the overcrowded con floor, and I'm always happy to support a good cause. If you aren't allergic to cats and you need to step out for a moment I recommend making a reservation.
So, cheer yourself up and take a look at these adorable cats!
Enjoyed this article? Share it!