Persona 5 Streetwear Collection Debuts from Crunchyroll Loves
Persona 5, the immensely popular JRPG, which then spawned a manga and an anime spinoff, now has a streetwear line from Crunchyroll Loves, the anime streaming service's apparel line. The PERSONA5 the Animation x Crunchyroll Loves Streetwear collaboration has launched in time for Cyber Monday.
Persona 5 is the most surprising and subversive of the Persona series. Previous entries in the franchise featured high schoolers forging social ties that strengthened their bonds and superpowered Jungian personas to maintain the status quo, a common theme in Japanese pop fiction; Persona 5 featured high school heroes who are betrayed and ostracized by a corrupt system that end up using their personas to fight the corrupt teachers, politicians and authority figures who have broken the social system. It's the first time the series featured heroes who actually rebel against the status quo, which is presented as broken and corrupt. That's a major shift in political outline in any Japanese series aimed at teenagers. Now you get to wear some clothing representing those characters from the series.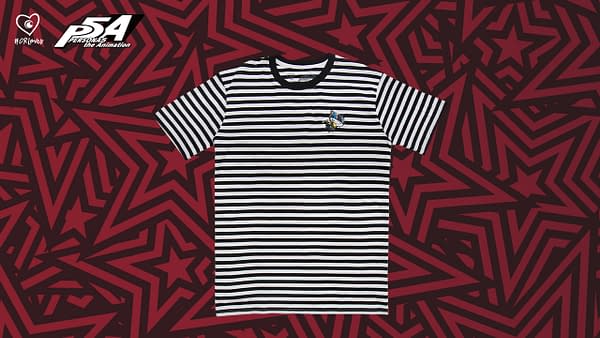 Crunchyroll Loves is unveiling a specially-designed collection for fans of PERSONA5 the Animation. The line features the group of friends who call themselves the "Phantom Thieves of Hearts."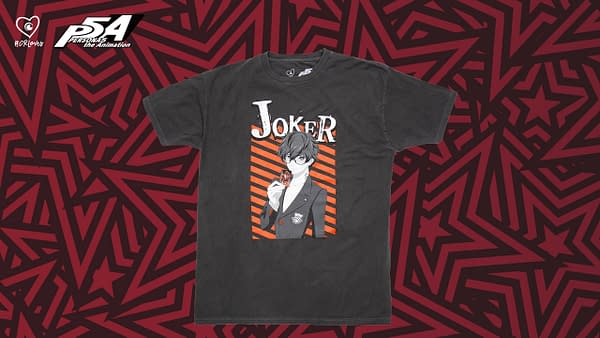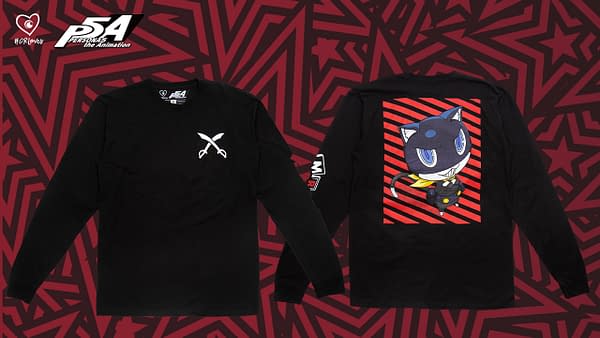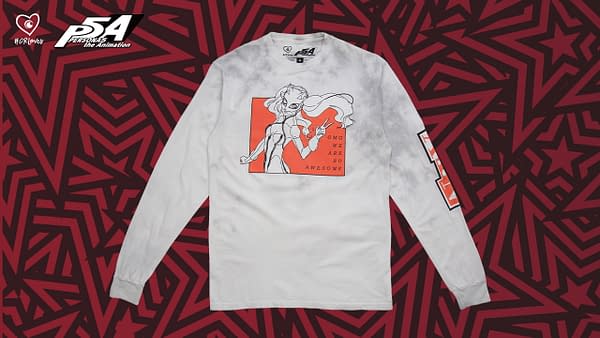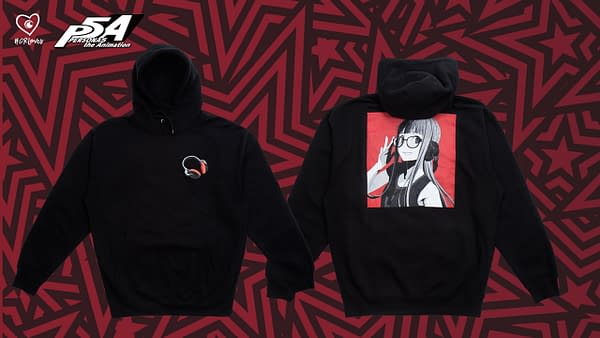 This limited-edition collection, available exclusively through the Crunchyroll Store, will help you awaken your persona and defeat the shadows, including:
One black hoodie featuring Futaba Sakura and red accents
One black anorak emblazoned with the show logo and the Phantom Thieves logo
One black long sleeve tee featuring the mysterious Morgana
One acid-wash long sleeve tee featuring founding Phantom Thieves member Ann Takamaki
One black tee featuring the Persona 5 protagonist
One black and white striped tee with an embroidered Morgana patch
PERSONA5 the Animation is available to stream now on Crunchyroll. The series is based on the beloved and critically acclaimed video game title. The collection is available for pre-order now through the Crunchyroll Store.