The Next Season of Total Divas Will Be Less F-A-B-U-L-O-U-S Without Carmella
WWE Smackdown Women's Champion Carmella will not appear on the next season of Total Divas, the superstar confirmed in a video interview with BANG Showbiz.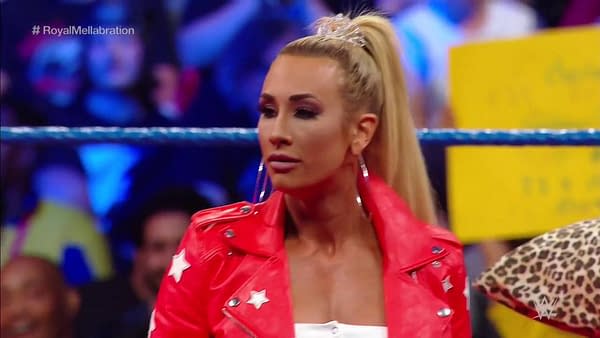 "I am not on this next season," Carmella answered when asked for an update on the show. "Right now I'm focusing on being the best champion I can be. I don't know what the future holds, but as of right now I'm not filming for next season."
As for working on Smackdown with ex-boyfriend Big Cass, Carmella had nothing but praise.
"I wish him nothing but the best," she said. "He's doing great. I think he's gonna do great work."
Finally, Carmella even praised Ronda Rousey, who's set to challenge Nia Jax for the Raw Women's Championship at Money in the Bank in June.
"It's such a fresh feel and a different vibe," Carmella said. "She comes from a different background and I think it's great. All eyes are on the women's division right now. Right now is the best time to be a female superstar and to be a lady wrestler, so I think it's great."
Who knew the Princess of Staten Island could be so polite in an interview?! Kayfabe is dead!
Watch the video below: