Batwoman S02E11 Arrive Alive Starts Fast & Furious, Ends Slow & Mopey
When Batwoman tries to take on fast cars and breakneck-speed chases, it sounds like it should be a recipe for fun, right? Unfortunately, while it moves some of the elements of the plot forward, this episode is less The Fast and Furious and more a snoozer filler episode that teases some great things for the future.
The main plot revolves around Batwoman/Ryan Wilder (Javicia Leslie) and Sophie Moore (Meagan Tandy) teaming up to try to extricate Angelique (Bevin Bru) from the False Face Society. She is their drug cooker, mixing up a new batch of Snakebite, for which they need a new batch of Scarecrow's fear toxin which they get into the city via fast-driving sports cars capable of outrunning the cops and the Crows.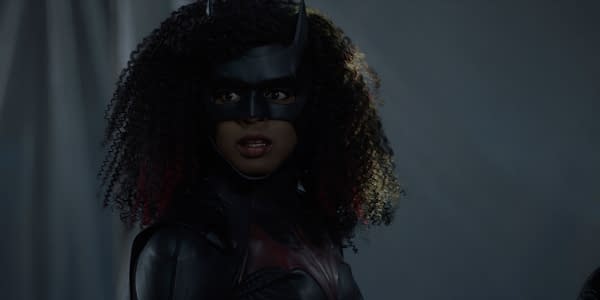 Both Sophie and Ryan end up going undercover and there are some pretty cool car chases, but that's where the excitement in this episode ends. A lot of the rest of the episode revolves around Alice (Rachel Skarsten) going through hypnotherapy with Enigma (Laura Mennell) delving through her lost memories with Kate and Ocean. It gets heavy and complicated, but never really resolves into being satisfying or interesting. It does, however, tease some things for the future which might themselves be interesting.
Speaking of, that is really the theme of this episode. Enter Crows Agent Russell Tavaroff (Jesse Hutch) who is leading the investigation into the False Face Society. The introduction of a new antagonist is not itself interesting, but those familiar with Russell Tavaroff's comic book alter-ego Menace might tease some very interesting plot developments for Luke Fox (Camrus Johnson), namely taking up his own crime-fighting alter ego Batwing. This is pure speculation at this point, but it is one of the most interesting parts of the episode.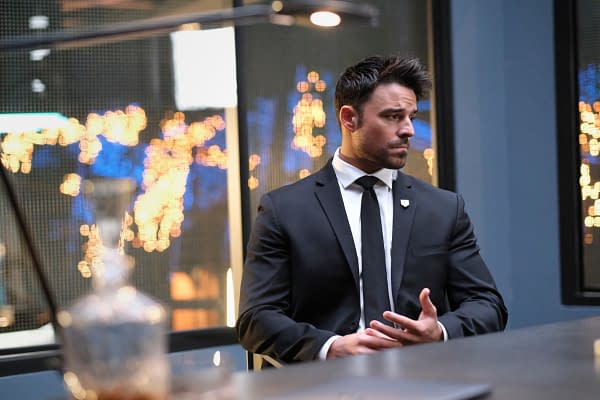 One of the other most interesting points of the episode is some of the moments pairing Ryan, Luke, and Sophie together and the multiple layers of lies of who knows whom and how. It's charming, especially showing off Camrus Johnson's comedy chops, but he also delivers some important warnings about getting too close to Sophie because she will eventually figure out Batwoman's secret identity.
The only other joy in this episode is the continued mustache-twirling from Black Mask. Peter Outerbridge continues to do a great job playing this role to the nines even in an episode that only features him in a few scenes.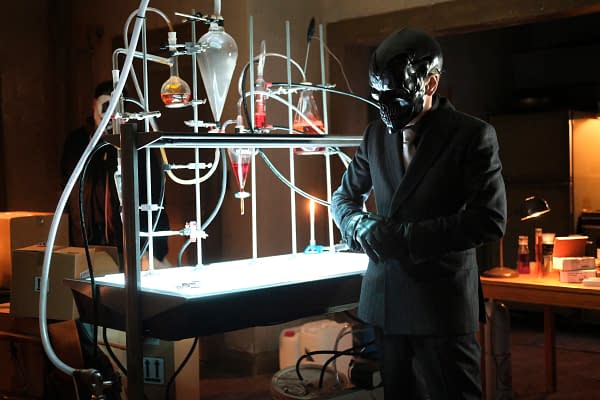 Stick around for the final few seconds of the episode, in which a few other things are teased (no spoilers) which hopefully mean better things in episodes to come. It's just unfortunate that as much as this episode is over-torqued in its action scenes, it never really goes anywhere.
Batwoman returns in a few weeks on May 2nd with a new timeslot at 9 ET/8 CT on Sundays, behind DC's Legends of Tomorrow, which. . . what is even happening? Can't wait. See you then, NEW Bat-time, same Bat-channel.
Batwoman Season 2, Episode 12 "Initiate Self-Destruct": WE ALL WEAR MASKS – Ryan (Javicia Leslie) is faced with a difficult decision that could expose her as Batwoman, creating a rift in the Bat Team. Meanwhile, Black Mask's (guest star Peter Outerbridge) plans for Kate Kane (Wallis Day) begin to unfold. Alice (Rachel Skarsten) is reunited with someone from her past, and Sophie (Meagan Tandy) must decide where her loyalty lies. Also starring Dougray Scott, Nicole Kang and Camrus Johnson. Glen Winter directed the episode with a story by Zack Siddiqui and teleplay by Jerry Shandy (212). Original airdate 5/2/21. Every episode of BATWOMAN will be available to stream on The CW App and CWTV.com the day after broadcast for free and without a subscription, log-in or authentication required.