Once again Emily Cook, empress of the Doctor Who global lockdown rewatches, has announced the next rewatch event. "The Fires of Pompeii" rewatch will take place on Sunday, May 17th at 7 pm British Standard Time. That's 2 pm US Eastern Time. Joining the livetweet will be episode writer James Moran, producer Tracy Childs, and actor Francesca Fowler (Evelina). "The Fires of Pompeii" comes from David Tennant's third season as The Doctor and Russell T. Davies' fourth season as showrunner. It was an unexpected milestone in several ways. Karen Gillen appeared on the show for the first time as one of the priestesses, two years before she got cast as Amy Pond, the 11th Doctor's companion. Peter Capaldi guest-starred here, about five years before Davies' successor Steven Moffat cast him as The Doctor after Matt Smith's departure. Doctor Who Magazine writer and BBC Radio editor Cook made the announcement via Twitter.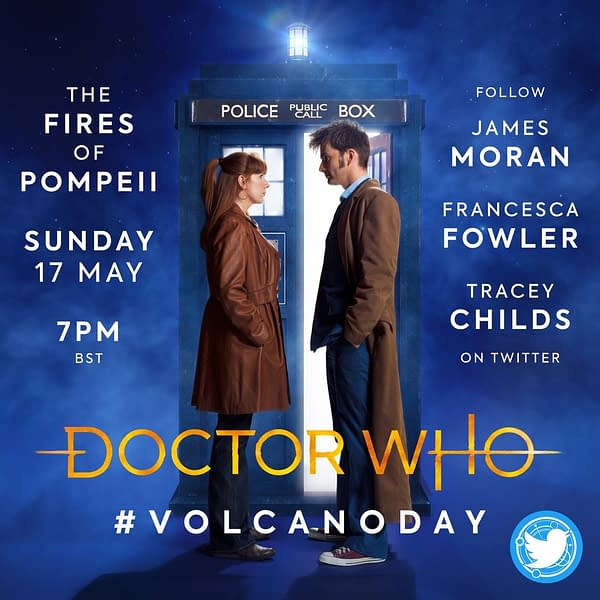 We're in Pompeii. And it's #VOLCANODAY 🌋

Join in with a tweetalong of The Fires of Pompeii! Featuring live tweets from writer @jamesmoran, @TraceyChilds50 (Metella) and @TheFranFowler (Evelina).

Hashtag: #VolcanoDay

Watch @makemeaoffer_'s trailer: https://t.co/7p9WM7f2cb pic.twitter.com/twFY2eXorO

— Emily Cook (@Emily_Rosina) May 10, 2020
It is also one of the most memorable stories from Series 4 of the new show. Both David Tennant and Catherine Tate give some of the most emotional and nuanced performances of their run as The Doctor and Donna Noble. It harkens back to the show's original brief from 1963 to educate children about a real historical event. Granted, the volcanic eruption that destroyed Pompeii was not destroyed by aliens or The Doctor. Or did they?
It's not as if there are any witnesses to say otherwise is there? Anyway, they filmed the episode on the same multimillion-dollar set in Italy that the excellent HBO series Rome was shot in. It added to the sense of immersion that the old show never had. It was a far cry from the old cardboard sets from the 1970s episodes that looked like they cost 50 pence to build and might have fallen over if anyone bumped into them. You'll be able to follow the livetweet on Sunday via the Twitter hashtag #VolcanoDay
Enjoyed this article? Share it!