BBC Releases Surprise 2018 Doctor Who Christmas Special – on Twitter
For those of you bemoaning the lack of a Doctor Who Christmas Special this year, the BBC has relented and released one, because you've all been very, very good. Who says you can't have nice things?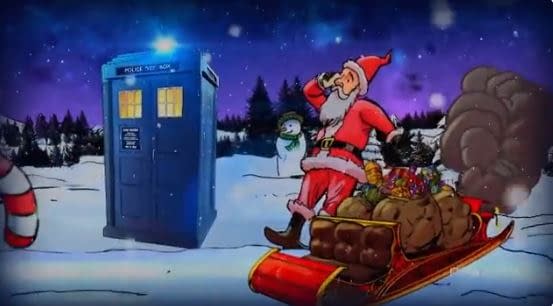 But there's a catch: it's in the form of a minute-long illustrated short on Twitter. Ta-da!
Narrated by Doctor Who's Graham, Bradley Walsh, the special is about Santa having trouble with his sleigh and unable to deliver presents to everyone this year. Who should step in and help out but – you guessed it – The Doctor!
Because the Doctor.
Of course Jodie Whittaker shows up (voice only, fans) as The Doctor – because this wouldn't be a Doctor Who Christmas Special without the Doctor.
Now you can open your presents, eat your mince pies and puddings, and wait till New Year's Day when the proper live action annual special shows up. It'll probably have Daleks in it. Because again, nice things…
What? Still not satisfied? Honestly, there's just no pleasing some people… All right, all right! If you really want a proper Christmas special, go no further than Netflix and watch The Christmas Chronicles.
This is the closest you're going to get to a Doctor Who Christmas Special this year.
I'm not kidding.
Kurt Russell plays Santa Claus here. Two kids mess up his well-honed routine of delivering presents all over the world – and now he has to make up for lost time or the world will get dark and mean because nobody got their presents. The greatest enemy Santa faces is disbelief and the loss of faith. The Spirit of Christmas is in jeopardy! Nobody but these kids believe he's Santa.
Santa has to rely on two kids as his companions for help. He has a vast array of technology beyond the ken of Humanity. He has a secret base. His sack is bigger on the inside. He has to depend on his wits and improvise a plan from scratch. He manipulates the Laws of Physics and Time like a boss. He appeals to people's better nature and eventually brings them around. The kids have their own sadness to get through. Of course Santa helps them learn a lesson at Christmas. You know the drill.
Look, even the elves look like aliens!
Doesn't that sound like The Doctor to you? And doesn't that sound strangely close to a Doctor Who Christmas Special? It's almost like Russell T. Davies and Steven Moffat snuck off to America without anyone noticing to make one of those unauthorised Doctor Who episodes with the serial numbers shaved off. Who's to argue that Russell's Santa is not a Time Lord in disguise? Let a thousand nerd arguments commence! God knows he's already launched a thousand Sexy Santa memes.
Just squint… or get really drunk (If you're a child, please do not get drunk! That's not good.) and you will swear you're watching a new Doctor Who Christmas Special.
Then go to sleep until New Year's Day and watch the Doctor Who New Year's Day Special.
Sorted.
So don't be a Grinch. Go watch all these nice things for free on the internet this Christmas.
This has been a Bleeding Cool Christmas Public Service Announcement. Normal service will resume after the holidays.