A dimensional portal in the form of a farting donkey, a fourth-wall-shattering (literal) Nobody, and a steady stream of not-so-friendly introductions to the super powers of Crazy Jane's (Diane Guerrero) various personas are more than enough reasons for our team to want to get away for awhile.
But as we can see from the following preview for this week's episode of DC Universe's Doom Patrol "Puppet Patrol," the team has a funny definition of "vacation" – unless travelling to Paraguay to hunt down a Nazi doctor and find out the truth behind your illustrious team leader Dr. Niles "The Chief" Caulder / The Chief (Timothy Dalton) is your kind of R-n-R.
Hope they like marionettes… but this ain't The Sound of Music:
Doom Patrol s01e03 "Puppet Patrol": The Doom Patrol set out for Paraguay where they discover the Nazi doctor who created Mr. Nobody and the connection between The Chief and the two villains.
While we're pretty sure that was more than enough to grab your attention, here's a look one more time at what viewers can expect from "The World's Strangest Superheros" this season (and you can check out our reviews of the first two episodes here and here).
DOOM PATROL is a re-imagining of one of DC's most beloved group of outcast Super Heroes: Robotman, Negative Man, Elasti-Girl and Crazy Jane, led by modern-day mad scientist Dr. Niles Caulder (The Chief). The Doom Patrol's members each suffered horrible accidents that gave them superhuman abilities — but also left them scarred and disfigured. Traumatized and downtrodden, the team found purpose through The Chief, who brought them together to investigate the weirdest phenomena in existence — and to protect Earth from what they find.

Part support group, part Super Hero team, the Doom Patrol is a band of super-powered freaks who fight for a world that wants nothing to do with them. Picking up after the events of TITANS, DOOM PATROL will find these reluctant heroes in a place they never expected to be, called to action by none other than Cyborg, who comes to them with a mission hard to refuse, but with a warning that is hard to ignore: their lives will never, ever be the same.

DOOM PATROL stars April Bowlby as Rita Farr / Elasti-Woman, Diane Guerrero as Kay Challis / Crazy Jane, Joivan Wade as Victor Stone / Cyborg, Brendan Fraser and Riley Shanahan as Clifford "Cliff" Steele / Robotman, Matt Bomer and Matthew Zuk as Larry Trainor / Negative Man, Timothy Dalton as Dr. Niles Caulder / The Chief, and Alan Tudyk as Eric Morden / Mr. Nobody.
A reimagining of the superhero DC characters originally written and drawn by Arnold Drake, Bob Haney, and Bruno Premiani, DC Universe's Doom Patrol is written by series creator Jeremy Carver (Supernatural, Being Human), who executive produces alongside Greg Berlanti, Geoff Johns, and Berlanti Productions' Sarah Schechter. Warner Bros. Television produces in association with Berlanti Productions.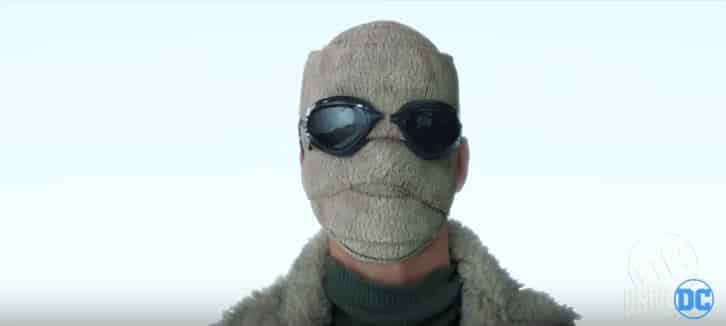 Doom Patrol premieres new episode every Friday on the DC Universe streaming service.
Enjoyed this article? Share it!