Ric Flair Was Upset That WWE Didn't Let Him Wrestle In 2019
I don't need to tell you if you've seen it, but the 2008 film The Wrestler is a genuinely tragic tale of a past his time wrestler who can't stay out of the ring. The ending is particularly harrowing, as after suffering a near-fatal heart attack and other health problems, Randy "The Ram" ignores his doctors and those who care about him and accepts a money match against his old nemesis. As the match progresses, it becomes clear that Randy is suffering another heart attack, but he forges ahead, climbing the top rope to hit his finisher, and it's alluded to that he dies in the ring.
The character is said to have been based on a variety of real-life pro wrestlers, but the one many fans found similarities to was "The Nature Boy" Ric Flair, and now with his latest interview, it seems Flair might want to do something that would bring on a similar fate as Randy "The Ram."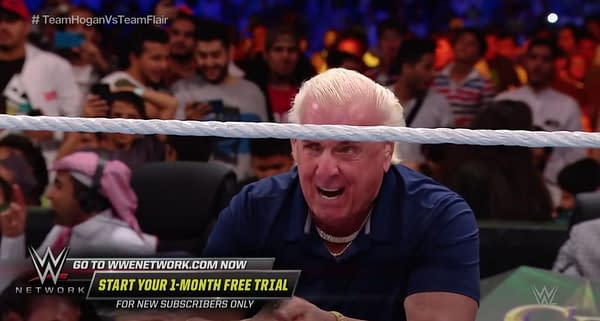 While doing an interview this week with Renée Paquette on her Podcast, Oral Sessions with Renée Paquette, Flair discusses how WWE and Chairman Vince McMahon would not allow him to get physical or wrestle anymore. He specifically brought up the 2019 WWE Crown Jewel event in Saudi Arabia, where Flair was involved in a match of his selected team members facing off against a team representing Hulk Hogan in tag team action.
Ric Flair goes on that he expected to be involved in the match and actually do some wrestling, but found out that Vince McMahon had specifically told the participants that they are not to get physical at all with Flair and told Roman Reigns in particular not to put hands on him.
"When Vince [McMahon] called me and asked me to go to Saudi Arabia, I worked out like I was going to Saudi Arabia to wrestle, right? The doctor said, 'You can get knocked down, you can do anything you want. Few things you're not supposed to do' but fear is I got that [pacemaker] taken out. The longer it's in, the more muscle where it's protected, right? So Roman [Reigns] made this big comeback and I got up to feed Roman, but Vince had told him, 'Absolutely hands off.' I understand it but like I said, what a way to go, right?"
So WWE is pretty notorious for making bad decisions (I mean, the shows in Saudi Arabia are basically an advertisement for that), but not letting Ric Flair wrestle anymore is not one of them.
On top of being 72 years old, we very nearly lost Ric Flair in 2017 when he suffered a bowel obstruction that caused his organs to fail and led to him being put in a medically-induced coma for ten days. And that's on top of him having heart problems (Flair has a pacemaker), kidney failure from alcoholism, and all kinds of other issues that a near-50 year wrestling career will give you.
Vince McMahon obviously realized Ric Flair was fragile and was not going to risk having arguably the greatest wrestler of all time drop dead in his ring just to get a pop.
But Ric Flair, despite not drinking or doing other chemicals now, is still indeed addicted to wrestling and doing anything to get that pop from the crowd. And when you're hopelessly addicted to something, you don't think of the ramifications of your actions and just live in the moment, trying to satisfy that need.
The end of The Wrestler is truly haunting and sad. I hope the end of Ric Flair is very different.