Rick and Morty Team On Childrick of Mort: Spicy Scenes, Pointy Things
With the fourth season of Rick and Morty ready to shuffle off Adult Swim's programming coil after this Sunday's season finale "Star Mort Rickturn of the Jerri", we're finishing a little clean-up on our coverage of last week's lesson in horrible parenting and in the importance of practicing safe planetary sex. Director Kyounghee Lim, writer James Siciliano, background lead Robbie Erwin, and lead post supervisor David Marshall were all kind enough to set up shop for the Rick and Morty Companion Podcast Live to talk all things "Childrick of Mort". From scenes that didn't make the cut and impossible action scenes to the problems with animating pointy things and a wave of viewer questions, the following episode has a little something for everyone:
So there's a lot to think about regarding the fifth season, especially with only a few days left in the life cycle of the fourth one. Will ten-episode, split seasons be the norm? Should we pencil in November 2020 and May 2021 for our next five-episode rounds? While he had had promising news about the fifth season to share, it looks like series co-creator Justin Roiland is as much in the dark over how the next season will go release-wise just like the rest of us: "I think it's largely dependent on how quick the episodes can get produced. I know season five is mostly in the can. They're still gonna be reworking when the animatics come back, so that can extend the process. I believe if they have the full ten episodes, they'll release them without a split, but I honestly have no idea. That's kind of a question that's outside of my jurisdiction. They do what they think is best for the show."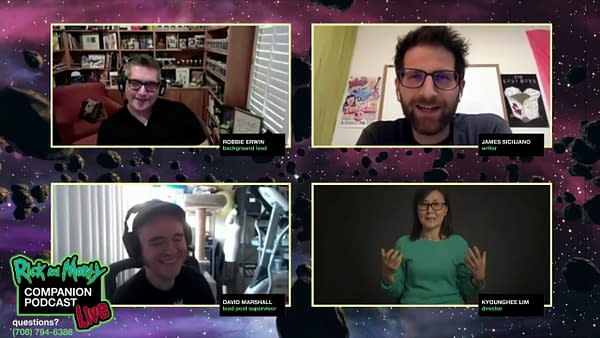 Roiland isn't just a fan of having a split in the schedule like we saw this season, but he loves the idea of playing around with release schedules and other new ways of getting episodes out to the fans. Even monthly: "I've been saying we should drop an episode each month, just make it a big event. I like the idea of thinking outside the box with how any show is delivered to the masses. If you do one a month, the show is alive the whole year and you're still buying us all the time we need to make them as good as they need to be. I'm not saying that's ever gonna happen, but I have brought that up in the past. That just goes to the point that I have no idea what the plan is for season five. I'm sure whatever it is will be the right decision."