Smiling Friends Looking for Storyboard Artists; Hadel Posts Details
Smiling Friends co-creator Zach Hadel took to Twitter to get the word out that the Adult Swim series is looking for storyboard artists.
---
Smiling Friends' co-creator & writer, as well as the voice for Charlie and Glep, Zach Hadel, recently posted a call for storyboard artists on his social media to work on the second season. The Adult Swim series got the green light for a second season back in February 2022, and many fans (waving my hand over here) [Ed. Note: … and here!] have been waiting for more updates that signal us getting one step closer to a new season.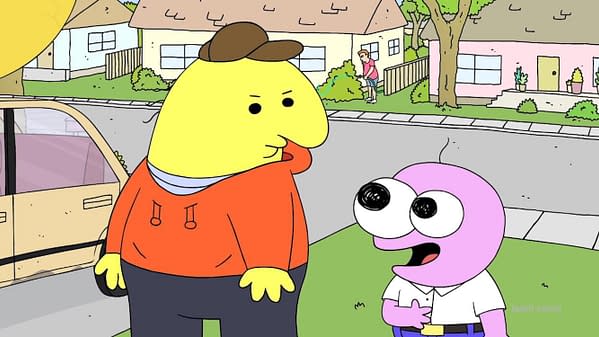 Smiling Friends follows the employees of a small company dedicated to bringing happiness to a bizarre yet colorful world. The quarter-hour animated series is co-created by Michael Cusack (YOLO: Crystal Fantasy) and Hadel (Hellbenders) and animated by Princess Bento Studio. Cusack also lends his voice to the series for characters Pim and Alan. The series first premiered on Adult Swim on January 9th, when fans were treated to a full run of the entire season that night. Fans can stream that season right now on HBO Max as we await future content from the most bizarre and hilarious of workplaces.
Zach Hadel Requests "Smiling Friends" Storyboard Artists
Hadel is asking for storyboard artists for season 2 of Smiling Friends, indicating that we may not be getting any new episodes until later this year. Prop and character designers are needed for the stories ahead. Whether it's Mr. Boss (Maurice LaMarche) being a spontaneous gremlin or Pim producing enough optimism to withstand a whole lot of mental scarring to last a lifetime, we're ready for whatever unique art styles or perspectives are ahead. Cusack currently has another Adult Swim series, YOLO: Silver Destiny, that can be streamed on HBO Max right now. That series serves as a follow-up to Cusack's past series YOLO: Crystal Fantasy. So, to all artists and animators out there, you may as well shoot your shot and send that email to the Smiling Friends team.