The Boys, Always Sunny, Cowboy Bebop & Tons More! BCTV Daily Dispatch
In today's BCTV Daily Dispatch: Doctor Who, Cowboy Bebop, Dead Day, The Boys, Dead Boy Detectives, It's Always Sunny in Philadelphia & more!
---
With today's BCTV DD "Long-Distance Dedication" bringing us Rihanna with "Don't Stop The Music," welcome back to the BCTV Daily Dispatch! Here's where we look back at what we've been doing for the past 24 hours that you might've missed or might want to check out again. We're talking about everything from news and reviews to interviews and opinion pieces- all for your television-obsessed enjoyment. Our line-up for this morning includes Russell T. Davies dropping more Doctor Who intel, Cowboy Bebop anime co-creator Shinichiro Watanabe throwing shade at Netflix's series adaptation, Peacock pulling the plug on its series adaptation of AfterShock comic book Dead Day, Amazon's The Boys star Erin Moriarty teasing that Annie's looking for "vengeance" in Season 4, Neil Gaiman & Director Pete Chatmon checking in about HBO Max's Dead Boy Detectives, and the love for FXX's It's Always Sunny in Philadelphia continuing to grow as filming on Season 16 rolls along.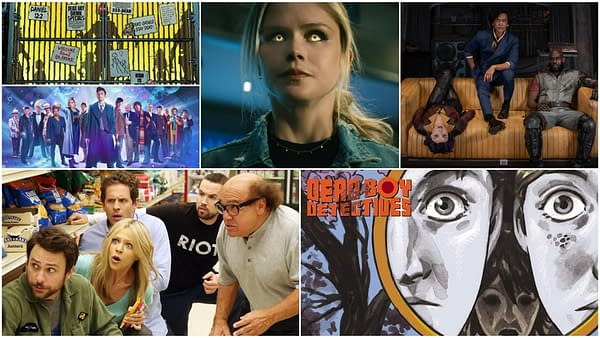 BCTV Daily Dispatch: The Boys, Always Sunny, Cowboy Bebop & More!
Plus, check out our additional coverage: NBC's Quantum Leap, TNT's AEW Rampage, Adult Swim's Smiling Friends, FOX's WWE SmackDown, CBS' Ghosts, Amazon's Tomb Raider, NBC's Saturday Night Live, Paramount+'s Rabbit Hole, HBO's The Last of Us, Paramount+'s Star Trek: Picard, Apple TV+'s Ted Lasso, NBC's Night Court, and more!
Now, here's a look at your Bleeding Cool TV Coverage for Saturday, January 28, 2023:
Dead Boy Detectives "So Good": Neil Gaiman; Director Chatmon Updates
The Boys Season 4 Finds Annie "In Her Vengeance Era": Erin Moriarty
Quantum Leap Season 1 Ep. 11 Images: Will Things Go Nuclear For Ben?
Dead Day DOA: Peacock Not Moving Forward with AfterShock Series Adapt
AEW Rampage Preview: Jaimie Hayter Faces Emi Sakura and More Tonight
Smiling Friends Looking for Storyboard Artists; Hadel Posts Details
WWE SmackDown Preview: 'Twas The Night Before The Royal Rumble
Ghosts Season 2: Check Out 3 Sneak Previews for Ep. 13 "Ghost Hunter"
Tomb Raider: Phoebe Waller-Bridge Reportedly Penning Amazon Series
Saturday Night Live: Michael B. Jordan Meets Creepy SNL Pillow Twin
Doctor Who: RTD on Star Trek Influence, Disney Funds, Spinoffs & More
Netflix Series Adapt "Clearly Not Cowboy Bebop": Shinichiro Watanabe
Rabbit Hole Teaser: Kiefer Sutherland's John Weir Can't Trust Himself
The Last of Us Season 2 Gets HBO Green Light; Druckmann, Mazin Respond
Star Trek: Picard Star Jonathan Frakes: TV Key to Franchise's Future
Ted Lasso Star Brett Goldstein "Would Happily Play Roy Kent Forever"
Night Court Season 1 Episodes 4 & 5 Preview Images Released
Always Sunny, The Orville, That '90s Show & More: BCTV Daily Dispatch
It's Always Sunny in The Daily LITG, 27th January 2023

Bleeding Cool TV on Instagram: For all of the stuff too random and bizarre to make the site, make sure to follow us on Instagram: Bleeding Cool TV (@bleedingcooltv).
BCTV Daily Dispatch: For a look at what's going on across the television and streaming landscape, sign up for Bleeding Cool's daily email round-up of the news you need to know here.