WWE Raw 6/13/20 Part 3: Randy Orton Treats R-Truth Like a Friend
It's been a long night. It's always a long night on Mondays. But we're in the home stretch. The final hour of WWE Monday Night Raw. So far, we've seen the return of Bianca Belair and Shayna Baszler. We've see Seth Rollins get his comeuppance from Rey Mysterio, Dominick Mysterio, and Aleister Black, which somehow is supposed to sell the PPV on Sunday where Rollins will finally get his comeuppance from Rey Mysterio. And when we left off in part two of this report, R-Truth was about to get his ass murdered by Randy Orton.
R-Truth heads to the ring for his match against Randy Orton. Will this be the last time Truth performs What's Up? Ric Flair comes out. He wants to be the first to congratulate R-Truth on the most illustrious career he's seen in a long time. Ric wants Truth to know Randy Orton loves him too, which is why he's not gonna punt his head off tonight. He's just gonna give Truth the RKO.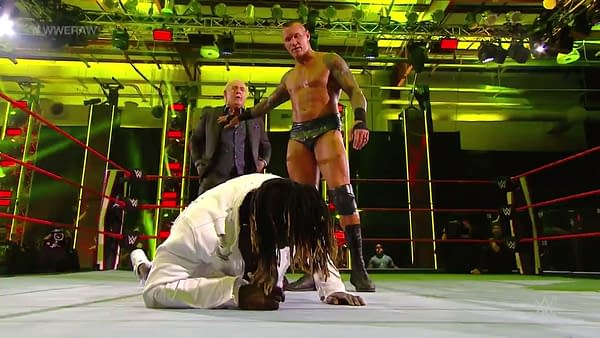 Orton comes out. When the bell rings, Truth asks Orton for a time out so he can talk to Ric Flair. Orton attacks him when his back is turned. Truth fights back and goes for the scissors kick, but he eats an RKO quickly. Flair raises Orton's hand. Is anybody gonna get punted or what?
Flair tries to leave the ring with Orton, but Orton pauses. Orton turns back and stands over Truth as Flair tries to talk him out of it. Orton goes for the punt, but Flair gets in his way. The Big Show comes out. Orton tells Big Show if he takes one more step toward the ring, Orton will give Truth the punt. Orton says it hurt him more than it hurt Edge and Orton to punt kick them. Orton says he wasn't gonna punt kick Truth. It's the Big Show's name that's on the punt kick. Orton challenges Big Show to an unsanctioned match next week. Big Show accepts and charges the ring. Orton escapes. He backs up the ring insisting he wasn't gonna kick Truth. Randy Orton is completely deranged and I'm here for it.
Backstage, MVP and Bobby Lashley find Cedric Alexander and Ricochet backstage. MVP wants to know if Cedric got the gift he sent him. Cedric says he's not interested. He and Ricochet leave. Sarah Schreiber walks up and asks what MVP's game plan is at Extreme Rules against Apollo Crews. MVP says he's practically already won. He has the new belt, after all. Lashley says Richochet is gonna be nursing his injuries after their match tonight. They leave, and Sarah runs over to Drew McIntyre. McIntyre starts to talk about his match with Dolph Ziggler on Sunday when Ziggler runs up out of nowhere and attacks him. Raw goes to commercials.
Bobby Lashley and MVP come to the ring for Lashley's match with Ricochet. Richochet comes out with Cedric. Lashley brutalizes Ricochet for the early part of the match. Richochet gets a brief flurry of offense here and there but it never lasts more than a couple moves. Richochet ends up backflipping right into the full nelson and taps right away. When Lashley won't let go, Alexander gets in the ring, but he just ends up getting a full nelson of his own. Raw goes to commercials.
Charly Caruso talks to The Big Show backstage. She wants to know about his match with Randy Orton next week. Big Show says yes, he accepts the match. He walks away.
Sasha Banks and Bayley head to the ring for the main event, in which they will defend the tag team championships against the Kabuki Warriors. The Kabuki Warriors come out next. Shouldn't it be the other way around? Raw goes to commercials.
Back from break, Bayley wants to cut a promo. She and Sasha want to give the Raw audience a chance to see greatness. They're going to play their tribute to themselves from Smackdown. Uh… do they realize that it's the same audience at both shows? An audience of paid WWE trainees who haven't sat down for 23 hours and were forced to eat in a tent outside? The Kabuki Warriors come out after the video is finished. Banks and Bayley jump Asuka and Kairi Sane during the announcements, but Asuka and Kairi hit dropkicks sending both women out of the ring so Raw can take another commercial break.
You know, Raw may be about 50% filler and 80% suck, but this right here is a huge match that could headline any PPV (well, if WWE cared about tag team wrestling). I'm psyched for it.
The match officially gets started after the commercials. Asuka and Sasha start things off, but Sasha tags in Bayley before it gets going. Asuka and Bayley feel each other out and Bayley gets the upper hand. She brings Asuka to her corner and Bayley and Banks take turns tagging in and punishing Asuka. Asuka manages to make the tag to Kairi, and when Bayley tries to tag Sasha, Kairi jumps off Bayleuy's back and clotheslines Sasha to the floor. Sasha comes in the ring and she and Bayley try to double team Kairi, but Kairi hits a double arm drag on them.
Kairi has control of Bayley briefly, but Sasha makes a blind tag. Asuka also makes a blind tag. Asuka and Kairi hit double butt attacks on Banks and Bayley on the apron, sending them to the floor. Asuka brings Sasha in the ring and hits some kicks. She pins Sasha for a two-count. Asuka works on Sasha's arm.
Asuka tags in Kairi, but as Kairi is climbing the ropes, Bayley pulls Asuka off the apron. This distracts Kairi, allowing Sasha to take control. And now here we are where this match was always meant to end up: with Kairi selling to get the crowd hyped for the hot tag to Asuka. A job well done, Raw goes to commercials.
Back from break, Sasha has Kairi in a devastating rest hold. She and Bayley take turns tagging in to beat down Kairi and run down the Raw clock. At one point, Sasha holds up Kairi so Bayley can hit a pathetically-executed butt attack. Funny spot. Finally, with about three minutes to go, Kairi makes the hot that to Asuka.
It's Asuka and Bayley. Bayley whips Asuka into the pipes, but Asuka hits the butt attack on Sasha, knocking her to the floor. She hits a butt attack on Bayley. She gives Bayley a bulldog while clotheslining Sasha. She hits Bayley with a knee strike from the apron. Asuka goes for a pin on Bayley and gets two.
Asuka goes to the top turnbuckle but Bayley knocks her down. She tags in Sasha who hits a Meteora and gets a two-count. Sasha tags in Bayley and they slam Asuka. Bayley puts Asuka on the top turnbuckle and hits a hurricanrana as Sasha tags in. Bayley takes out Kairi and Sasha tries a rollup, but Asuka reverses and gets the Asuka Lock on. Kairi prevents Bayley from breaking it up, but Sasha gets to the ropes. In a sequence of pin attempt reversals, Kairi Sane kicks Sasha in the face, Asuka tags her in and Kairi hits the elbow. But Bayley pulls her out of the ring, breaking up the pin. After a tussle outside, Kairi hits a flying forearm on Sasha and then an Alabama Slam. She hits a low clothesline on Sasha but Sasha locks on the Banks Statement and Kairi taps.
I love a main event that delivers. Sasha vs. Asuka should main-event Extreme Rules. But it will probably be that Drew McIntyre vs. Dolph Ziggler match that nobody cares about. Raw had its moments tonight. This show would be so much better if it was an hour shorter.