WWE's Renee Young and Baron Corbin: A Tale of Two Smokers
The cooking rivalry between two top stars of WWE continued to heat up over the Fourth of July weekend. Renee Young, who recently announced plans to publish a cookbook, revealed this weekend that she's purchased a smoker, diversifying her cooking repertoire. But Baron Corbin, The Ratings King of Friday Nights and an experienced meat smoker, declined an invitation to teach Young how to use the device.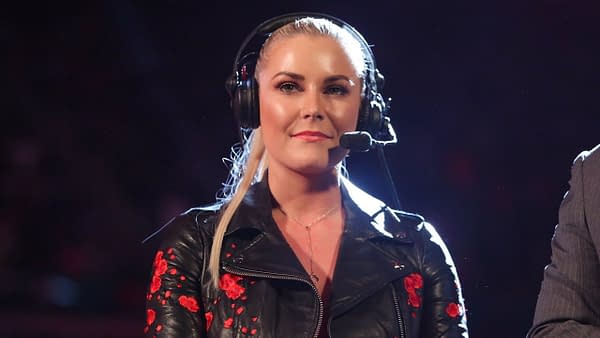 "I bought a smoker," Young revealed on Twitter. "My life will be divided into 2 major eras. Pre Smoker. And After Smoker."
As happens whenever she posts about cooking, Young's tweet captured the interest of the wrestling universe. David Otunga replied, "You will not be disappointed! I'm going on 2.5 years AS (After Smoker)." Young responded, "Haha, I've been scouring the internet for recipes all day. I am so excited!!" Matt Camp wrote, "Already planning the cookbook sequel I see," to which Young replied, "I gotta expand on my genres."
But things turned sour when a fan suggested Corbin, who posts regularly about his meat smoking adventures, could teach Young how to use her new tool. Corbin posted a gif saying, "That's a no from me." Perhaps Corbin still has beef over Young getting a bigger cooking push than the King. Young is frequently praised by the wrestling world for her cooking, while Corbin's posts are frequently ignored by his peers, showing a clear double standard. Young didn't appear very perturbed by Corbin's attitude.
Corbin, for his part, spent the Fourth of July smoking three racks of ribs, the King revealed with a video on Twitter, saying, "A little rib action today. Ohh, and you can't bbq with out bourbon. @knobcreek." Corbin also lashed out at people who use pellet grills to smoke, writing, "This is also a no pellet castle! @PittsandSpitts @WWE." It's unknown what kind of smoker Renee Young purchased and whether this was a dig at the former WWE Backstage star. Corbin later posted a video of the finished ribs, declaring, "Perfect color! The offset is amazing!"