Yellowstone, The Flash, South Park, TUA & More: BCTV Daily Dispatch
In today's BCTV Daily Dispatch: The Flash, GLOW, Dexter/Billions, The Umbrella Academy, South Park, Yellowstone, Star Trek: Picard, and more!
---
With today's BCTV DD "Long-Distance Dedication" bringing us Deep Blue Something with "Breakfast At Tiffany's," welcome back to the BCTV Daily Dispatch! Here's where we look back at what we've been doing for the past 24 hours that you might've missed or might want to check out again. We're talking about everything from news and reviews to interviews and opinion pieces- all for your television-obsessed enjoyment. Our line-up for this morning includes The CW's The Flash showrunner Eric Wallace discussing what's to come & what could've been, GLOW star Kate Nash showing off looks at "The Season That Wasn't," Paramount+ on Showtime (yeah, that's a mouthful) expanding the Dexter & Billions universes, Netflix's The Umbrella Academy sharing a look at the final read-thru, Comedy Central's South Park warning of a jealous Cartman, and (reportedly) Paramount Global & Taylor Sheridan apparently ready to move beyond Kevin Costner with a new Yellowstone series with Matthew McConaughey.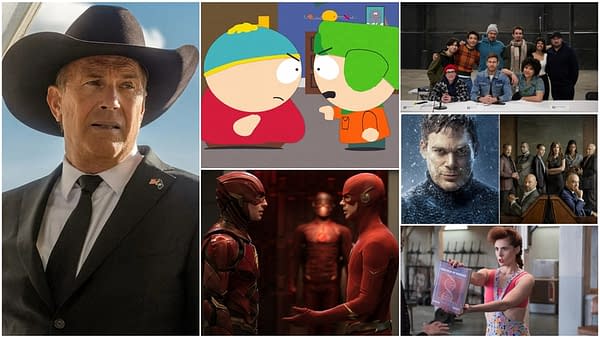 BCTV Daily Dispatch: Yellowstone, The Flash, South Park, TUA, GLOW & More!
Plus, check out our additional coverage: Paramount+'s Star Trek: Picard, Apple TV+'s Hello Tomorrow!, Pamela Anderson / Tim Allen, USA Network's WWE Raw, Tom Brady / FOX Sports, HBO Max's Harley Quinn, Breaking Bad / PopCorners, Netflix's Agent Elvis, FXX's It's Always Sunny in Philadelphia, HBO's The Last of Us, Tencent's The Three-Body Problem, and more!
Now, here's a look at your Bleeding Cool TV Coverage for Tuesday, February 7, 2023:
Star Trek: Picard Showrunner/EP on Season 3 Evoking TOS, Films & More
Hello Tomorrow! Apple TV+ Previews Billy Crudup Retro-Future Series
Home Improvement: Pamela Anderson Stands By Tim Allen Accusation
The Flash Showrunner on Season 9 "Mission Statement," WestAllen & More
WWE Raw Preview: Becky Lynch vs. Bayley in a Steel Cage, Take Two
Yellowstone Could End with Season 5; McConaughey Series Eyed: Report
Tom Brady Not Super Bowl-Bound: FOX Sports Deal Starts Fall 2024
South Park Season 26 Ep. 1: Hell Hath No Fury Like a Jealous Cartman
GLOW: Kate Nash Shares BTS Looks at Netflix Series' Shelved Season 4
Harley Quinn VDay Special: Brunson, Williams Voicing Hawkgirl, Hawkman
The Umbrella Academy Star Robert Sheehan Checks In From Season 4 Set
Breaking Bad: Now, Walt & Jesse Make Purest Snack Chips to Hit Streets
Agent Elvis Teaser: Matthew McConaughey Voicing "King of Rock & Roll"
Dexter, Billions Universes Set to Expand: Spinoffs, Prequels & More
Grant Gustin "Will Always Be The Flash for a Certain Generation": EP
Always Sunny Season 16: Charlie's "Americas," Familiar Faces & More
The Last of Us Episode 5 Preview: Is There Justice In Forgiveness?
The Flash, Star Trek, SNL, Quantum Leap & More: BCTV Daily Dispatch
The Three-Body Problem Episode 13 Review: Science Grandma Begins

Bleeding Cool TV on Instagram: For all of the stuff too random and bizarre to make the site, make sure to follow us on Instagram: Bleeding Cool TV (@bleedingcooltv).
BCTV Daily Dispatch: For a look at what's going on across the television and streaming landscape, sign up for Bleeding Cool's daily email round-up of the news you need to know here.