Castle of Horror: The Blob Suggests Teen Gangs Are Here to Save Us All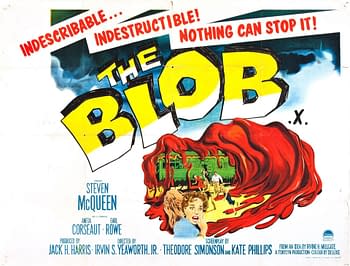 We discuss the 1958 film The Blob, often cited as the film debut of Steve McQueen. What is it about this independent film about a strange visitor from another planet — one that immediately starts growing and consuming every living thing it encounters — that continues to command attention today? We discuss Steve McQueen (27 here but playing a teenager), teen gangs of monster movies, and blazing 1950s color.
Listen here:
Listen on YouTube:
Check out the trailer:
Castle of Horror/Castle Talk Podcast Links:
Join us over on Facebook to chime in.
The show is hosted here. Get our RSS Feed. Subscribe at iTunes. Listen on Stitcher. Or on YouTube.
Twitter: castleofhorrorp.
The Team: Hosted by Jason Henderson, one of the writers for Bungie's Destiny 2 and creator of the HarperTeen novel series Alex Van Helsing; Featuring Drew Edwards, creator of Halloween Man; Tony Salvaggio, lead singer of the band Deserts of Mars, lead guitarist of the band Rise from Fire, and co-creator of Clockwerx from Humanoids; attorney Julia Guzman of Guzman Immigration of Denver; and Jamie Bahr, lead singer and upright bassist of the rock and roll band Danger*Cakes.