Happy Alien Day! Here are Some of the Things You Can Buy Today to Celebrate!
Happy Alien Day! Today is LV426, the day we celebrate the Alien franchise and its awesomeness. The original film turns 40 this year, and plenty of companies are helping celebrate with exclusive releases. Below you will find some of them and where you can get your extendable jaw on them. Hurry though- some will sell out fast.
Our favorite toy company Super7 has two Alien Day exclusives available- ReAction figures Kane in red and a space painted Xenomorph. You can order those here.
"There are things so terrifying, they only exist in a nightmare… or outer space."
A week from today (Friday – 4/26) is Alien Day 2019 and to commemorate LV-426, Super7 will be dropping these exclusive Alien ReAction Figures: First is the terrifying Xenomorph in a clear glitter space blue with matching card back. Then there is the doomed Nostromo crew member Kane in a horrifying red with matching card back. Both of these figures and their card art were inspired by the awesome original 1979 Alien concept poster art by Bill Gold that was not used for the film's release.
These will be available online in the Super7 webstore and at our San Francisco and San Diego stores.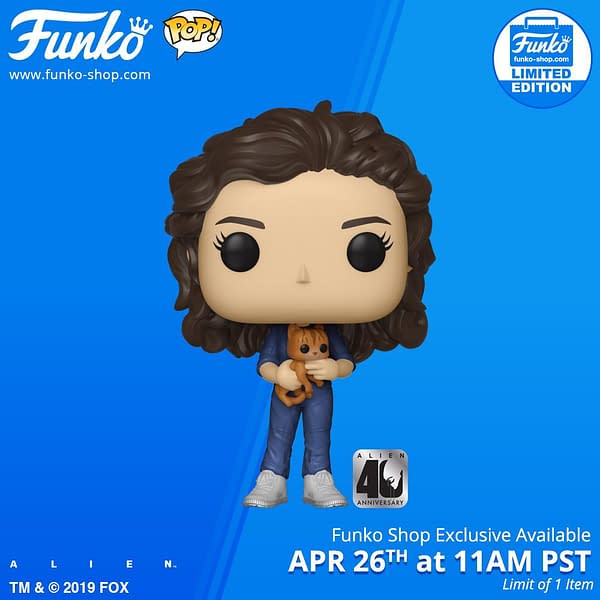 Funko has an exclusive Pop of Ripley holding Jonesy available today in the Funko Shop here.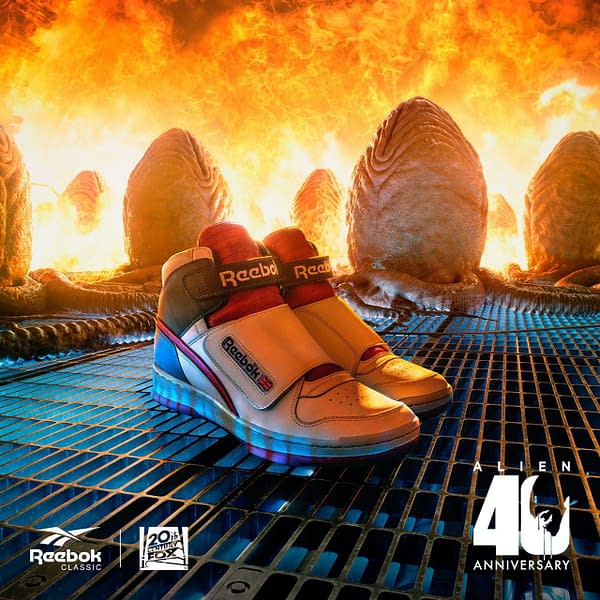 Reebok – Alien 40th Anniversary Alien Stompers "Bishop Edition"
Forty years after Alien (1979) introduced Earth to the mother of all sci-fi nightmares, Reebok is rewinding the story back to the 1970s for an upgraded unisex prototype edition of the iconic 'Alien Stomper' sneaker boots. Originally appearing in Aliens (1986) as the signature ass-kicking footwear of franchise hero Ellen Ripley, the new 40th Anniversary Alien Stomper draws inspiration from the original Alien film to create the most series-authentic Alien Stomper yet.
The 40th Anniversary Alien Stomper is an upgraded take on the classic 1986 silhouette. The new edition now features premium-aged leather construction, a material innovation that enhances the sneaker's tactile experience while also lending it a vintage "from the vaults" appearance.
Arriving in a cream-white colorway with contrasting blood-red and anthracite detailing, the unisex sneaker is oozing with minute design touches and Easter eggs for die-hard fans. Those details include references to a host of pre-production designs and logos that were never actually used in the film's final production making them true prototypes in both our universe and the universe of Alien. For example, eagle-eyed fans will take special notice of an ultra-rare deviant version of the logo used by the Alien franchise's infamous "Weyland-Yutani" corporation, which drops the "D" to read just "Weylan-Yutani".
The Stomper's new packaging is just as lovingly detailed as the sneaker itself. Reebok spared little expense in researching and creating materials for the packaging, which will arrive with a swarm of Alien in–universe goodies to help maximize the immersion factor. The full loadout includes:
A certificate of authenticity, backed by the good name of the Weylan-Yutani corporation
Custom dust bags for protecting your stompers from hostile forces
An official 'Bug Stomping' field guide
Three unique hang tags, including the alternate Weylan-Yutani logo and an official Alien 40th Anniversary badge
The sneaker will arrive in a triangular prism-shaped "Space Fleet Box", a retro-future design that imagines what a 22nd century Reebok box would look like through the eyes of 1979-era sci-fi design.
Buy the Stompers here.
Both Fox and Fright Rags have new apparel up for order here and here.
The Loyal Subjects have revealed the full figure collection for their Aliens wave of blind box figures releasing very soon at Target and Hot Topic.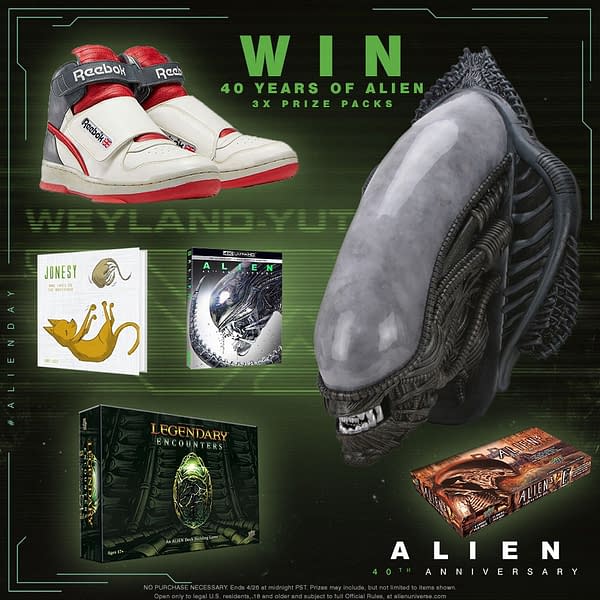 Fox is holding an epic contest where three winners can win an Alien prize pack. Enter here.
Alien Universe – Alien Day 2019 Giveaway
In celebration of #AlienDay this Friday, 4/26 and the 40th anniversary of Alien (1979), we're thrilled to be running this '40 Years of Alien Sweepstakes' filled with three amazing prize packs, including a Xenomorph Wall-Mounted Bust and a pair of the recently announced Reebok Alien Stompers! See below for details.
40 Years of Alien Sweepstakes
Winners: 3
Dates: Opens 3pm PST Monday, April 22nd and Closes Midnight PST Friday, April 26th
How To Enter: Users must sign up for the Alien Newsletter on Alien Universe here: https://www.alienuniverse.com/sign-up/form
Winners will be randomly selected and notified by Midnight May 6th, 2019.
1st Prize
– (NECA) Foam Replica Xenomorph Wall-Mounted Bust $360
– Reebok Alien Stomper $179
– Alien 4K Blu-ray – $24.99
– Total: $563.99
2nd Prize
– 40th Anniversary Alien print "Too Late to Scream" by Steve Thomas Print (Red Alert) – $59
– Alien 4K Blu-ray – $24.99
– Alien: Echo Book (MacMillan Publishers) – $18.99
– Funko Xeno Pop (#731) – $17.99
– Alien Coloring Book (Titan) – $14.95
– Jonesy: Nine Lives on the Nostromo – Book (Titan) $14.95
– The Loyal Subjects – 3.2'' Action Vinyls – $11.99
– Total $162.86
3rd Prize
– Legendary® Encounters: An Alien™ Deck Building Game – (Upper Deck) $59.99
– Alien 4K Blu-ray – $24.99
– Aliens Dead Orbit (Darkhorse Comics) – $34.99
– Diamond Select Xeno Warrior Vinimate – $9.99
– Total – $129.96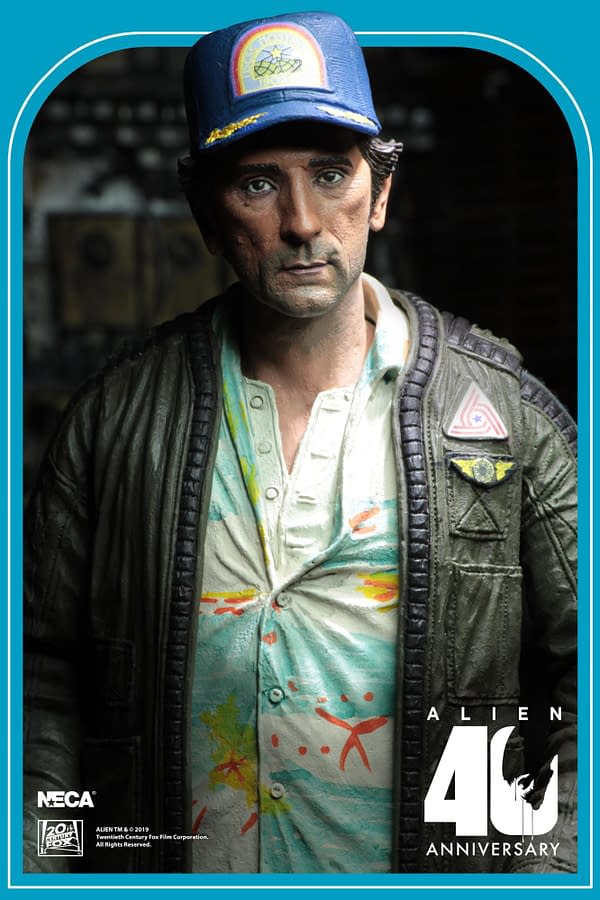 Finally, we couldn't celebrate Alien Day without something from NECA! Their Alien line is one of the best figure lines of all-time, and today they revealed a Samuel Brett figure! It looks incredible, and it will release in the fall.
How are you celebrating Alien Day today? Let us know in the comments below.