Exclusive Reveal- Diamond Select's New Wolverine Brown Suit Bust
Exclusive reveal: Check out the new brown suit Wolverine bust coming from Diamond Select Toys this fall to stores!
---
Wolverine is the latest mutant to get a bust from the ever popular line of busts from Diamond Select. This one will feature Logan in his classic brown suit, claws out, and posed on an adamantium themed base. This one is designed by Nelson Asencio, and sculpted by Juan Pitluk. The X-Men busts that they have been releasing the last year or so, both regular and animated series styles, have been pretty spectacular, and this one might just be my favorite so far. He will run you $90 and goes up for preorder this Friday. Check out the bust below.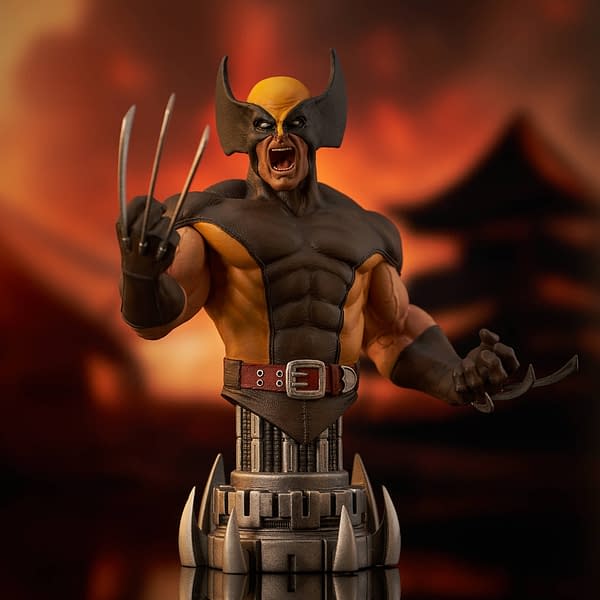 Wolverine's Best Suit Is The Brown Suit
"Marvel Comic Brown Wolverine 1/7 Scale Mini-Bust. A Diamond Select Toys release! Snikt! The berserker X-Man known as Wolverine is the newest 1/7 scale mini-bust in the Marvel Comics line! Wearing his classic brown costume and with his claws bared, this resin mini-bust of Logan stands approximately 5.5 inches tall atop an adamantium claw base, and features real metal claws! Limited to only 3000 pieces, it comes packaged in a full color box with a numbered certificate of authenticity. Designed by Nelson Asencio, sculpted by Juan Pitluk! Mini-bust, SRP: $90.00, Shipping fall 2023."
Say what you will about the many looks of Logan over the years, but to me, the brown suit will always be tops. That is what he was wearing when I was introduced to him, and anytime a company makes something of him wearing it, I find it hard to resist. Kudos to DST for sticking with busts as well, a lot of companies have moved away from them, but they always have done a fantastic job, and at this point you could have a pretty staggering collection if you went back and grabbed these.
The brown suit Wolverine bust will release in fall of this year.