BC Toy Spotting: Marvel Legends, Funko, Ralph Breaks the Internet, Predator, and More!
Welcome to the latest edition of BC Toy Spotting! We are in and out of stores pretty much every day, and we figure (ha!) why not show all of our fellow collectors what we are coming across on pegs and shelves. As collectors, we know that staying on top of what is in stores can be almost a full time job, so we are here to help you with your toy hunts and outings. This week we found new Marvel Legends again, Funko galore, Ralph Breaks the Internet figures and such, Harry Potter LEGO, and more! Let's dive in.
First up, Harry Potter LEGO! These may have been out other places, but here in the midwest they are just now hitting retail, including the awesome Hogwarts Great Hall! These were all found at Target.
Ralph Breaks the Internet, or Wreck it Ralph 2, Bandai figures and sets are hitting Walmarts and Targets right now. There are regular figs, big talking figs, and little figurine sets.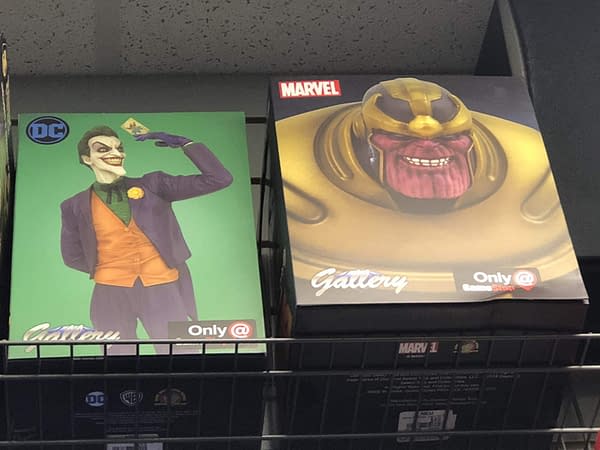 Gamestops are getting in their Diamond Select exclusive Gallery Joker and Thanos statues.
Mego collectors can find new things almost daily at Target right now. This week's big find for me was the Wizard of Oz Dorothy and Wicked Witch two-pack.
Two NECA TMNT prop replicas are popping back up at Gamestops. The mutagen canister and Casey Jones mask are hitting hard, with the Casey mask flying out of stores. Don't wait on these.
Marvel Legends collectors seem to have new figures to buy every week right now as well. More of the vintage carded figures wave 2 are hitting, this week Hawkeye and Vision. The A.I.M. two-pack is also popping up, this one was found at Gamestop.
NECA's new Ahab Predator figure is hitting at Targets right now in their dedicated section.
As always, tons of Funko product hits stores every week. The Gamestop exclusive Gamer Mickey Mouse is in stores, as are Kingdom Hearts 3 Monsters Inc. world Pops. The KH3 Pops are pretty awesome. Hot Topics got in the LA Comic Con Chrome Colossus and Ghost Rider Doctor Strange Pops. Mine still has some as I type this, though YMMV. The just announced Voltron wave of Pops hit a day after being announced, and the Crimes of Grindlewald Pops are hitting full force right now, including a Target exclusive 10-inch Niffler.
Also from Funko, Ralph Breaks the Internet and Fallout Mystery Minis are in stores, along with Savage World Thundercats figures. The Thundercats have been going as fast and they get them around here, so you may want to snap these up as you find them.
Finally, for those who missed the initial push of Transformers Trading Card game packs, they are hitting hard again everywhere. This endcap display was in a Target. WWE M.U.S.C.L.E. figures from SDCC are hitting Gamestops, and Jakks Mickey Mouse Tsum Tsum sets can be found right now at Walgreens stores.
What are YOU finding in stores right now? Let us know in the comments, or on Twitter using the #BC_ToySpotting