Beast Kingdom Unleashes Hulkbuster Iron Man Armor [PREVIEW]
Hulkbuster versus the Hulk was one of the greatest things in Avengers: Age of Ultron. The true technological genius of Tony Stark against the raw power of Bruce Banner's rage. The Battle was legendary and the Hulkbuster became solidified in new fame. That fame comes back with Beast Kingdom in their Egg Action Attack series of figures. He stands 8" tall and has 20 points of articulation. Hulkbuster does come with an extra head to show off Iron Man inside the suit. The figure is also loaded out with LEDs to give you that perfect glow. Extra interchangable hands, blaster effect and armor pieces are all included with him too. With the recent announcement of the Hall of Armor set, collectors can add one more suit to the line-up!
Hulkbuster is set for a Spring release of 2020. No price was given just yet but they gave a list of distributors located here. Also, your local comic shop could help lock down this figure too!
Bust up the Hulk below:
"Come on Bruce you gotta work with me!" says Iron Man to the now uncontrollable Hulk. Based on the Mark 44 version of Tony Stark's Iron Man Suite the Hulkbuster was created originally for the sole purpose of restraining the Hulk. With it's debut in Avengers 2: Age Of Ultron, the suite went on to be heavily feature in subsequent Avengers Movies! A modular armor kit sent remotely with the aid of the computer AI Veronica, the suite allows the original Iron Man to bulk up considerably giving Tony a much needed boost in pure strength!
Through popular demand, Beast Kingdom is excited to announce the release of the Egg Attack Action: Hulkbuster, giving fans their very own chance to take Hulk on a dual of titanic proportions. Standing at an impressive 8 inches in height, and with a highly articulable 20 joints of movement, this figure is ready to take on the challenge of any mantlepiece it is posed on!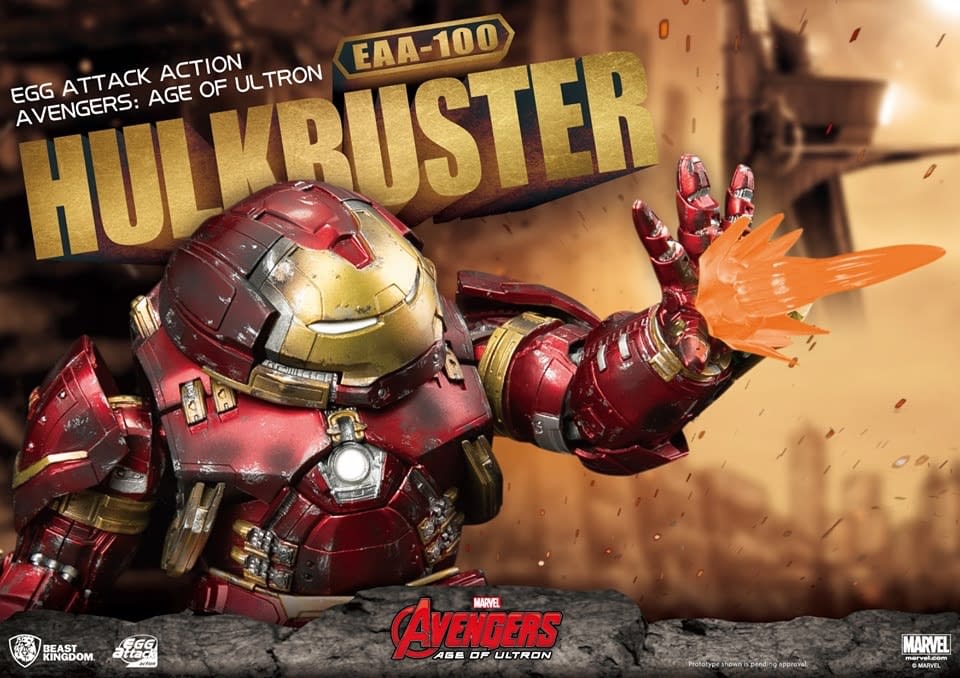 In addition to the highly detailed battle damaged paint work of the armor, the eyes, chest, palms and calves as well as the back propellers are all equipped with LED lighting, giving the figure a highly collectable range of features, extra MK43 head hidden under the Hulkbuster head gives collectors the chance to show off Ironman just like in the movie!

Don't miss your chance of taking home this gargantuan figure today!