Deathstroke Revoltech Figure Hits Stores in Early 2019
Deathstroke is going to be the latest Amazing Yamaguchi Revoltech figure (no.11 to be exact), and he may be the best. We picked the Wolverine as one of our favorite figures of last year, and regardless of when it comes out this is looking like it will be a contender as well. Featuring incredibly well-sculpted armor, two heads, two pairs of hands, two swords, a rifle, a pistol, a bow staff, and some grenades, he is the most geared up figure I have seen in awhile. Not to mention the crazy articulation these figures always have. It just does not get much better than this. It may be the best Deathstroke we are ever going to get.
You can see for yourself in the pictures below. Try not to drool too much on your keyboard. This version will release around January of 2019, and retails for around $80 depending on where you can sneak in a preorder. Which I would recommend doing, as this one won't stick around for too long. You can do that right here.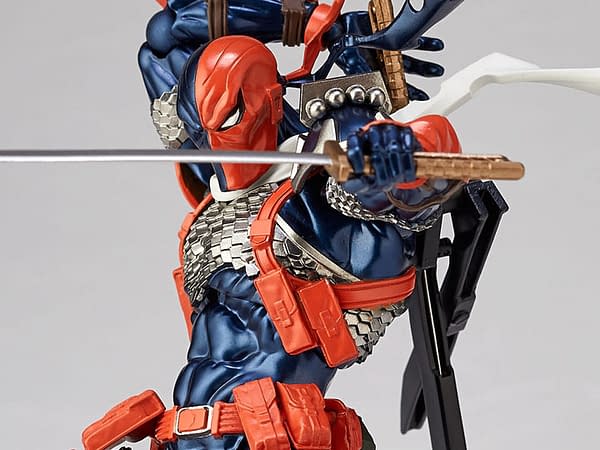 Deathstroke, one of Batman's many foes, joins the Amazing Yamaguchi action figure lineup from Kaiyodo. Deathstroke stands over 6.50 inches tall and is insanely posable for maximum action and includes a huge arsenal for taking on the Dark Knight.

Product Features

6.70 inches (17cm)
Made of plastic
Insanely posable for maximum action
Wide selection of accessoires

Box Contents

Deathstroke figure
Maskless head
2 Pair of hands
2 Swords
2 Sheaths
Assault rifle
Pistol
Bo staff
2 Grenades