Funko Round-Up: Ronda Rousey, Nicktoons, Boy Meets World, and Tokyo Ghoul!
Funko announces tons of new products and licenses every day, let alone every week. It can be a lot to keep up with. So we are here to help. Welcome to the Funko Round-Up! In this edition: Ronda Rousey joins the WWE line, Tokyo Ghoul gets an expansion to its Pop line, Boy Meets World finally gets some Pops, and a whole mess of Nicktoons! Let's take a look!
First, 90's sitcom Boy Meets World finally joins the Pop world, with Cory and Topanga. Really surprised that they didn't just do all of the main cast, hopefully that doesn;t mean they will be exclusives later. I mean, who doesn't want a Pop Mr. Feeny? This hit this month.
Four new Tokyo Ghoul Pops are coming, and check out that Half-Kakuja Kaneki! Holy cow is that thing awesome! These will be in stores in December.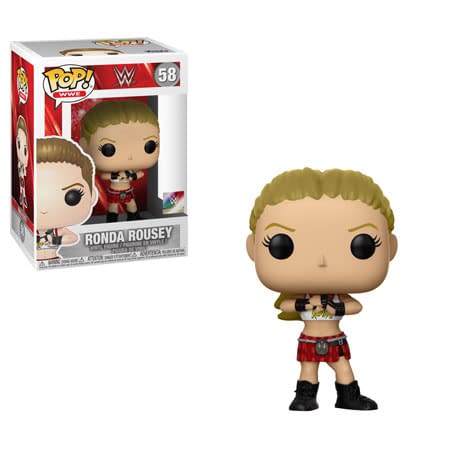 The baddest woman on the planet (but not The Man) Ronda Rousey gets her second Funko Pop, this time in her WWE gear and joining the WWE line. This one looks way better than the UFC one they did, and this is sure to fly off the shelves when it releases this month.
Finally, we are getting more Nicktoons product! First, the Funko Shop will have exclusive Rugrats Dorbz figures. Tommy, Chuckie, and Angelica will all be available.
A new wave of Pops will also be coming out. Angelica and Spike the Dog from Rugrats, Three of the Wild Thornberries, and a regular Gerald from Hey Arnold will be available, with Arnold and Gerald in their fruit costumes can be found exclusively at Gamestop.
Most of these products can be ordered or preordered right here.